Pearl Barley is a very popular dish of the ethnic Ukrainian cuisine. This porridge is very healthy, polished grains are soft, chewy, nutritious, and rich in fiber and vitamins.
Traditional recipe of the delicious Ukrainian dish Pearl barley with cheese and greenery from the culinary website of ancient Ukrainian and Slavic ethnic cuisine Etnocook is very simple. Pearl barley can be cooked with vegetables and meat, cheese, herbs. It has crunchy texture and is widely used in soups, stews, salads. Actually, Pearled barley is highly recommended in healthy everyday nutrition.
Porridge with cottage cheese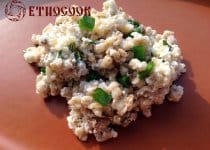 pearl barley is washed and soaked in warm water (so it won't have a bitter taste)
for more gentler texture cooked grain can be rubbed through a metal sieve
butter can be replaced by vegetable oil
there can be used any type of milk or some water
post-1446
Prep Time:

03h 00min

Cook time:

30 minutes

Yield:

4 portions
Nutrition facts:
Calories
:
250 kcal/100g
;
Fat
:
8 grams
;
Known since
:
ancient times
;
Ingredients of the Pearl barley with cottage cheese
Mark the ingredients if you don't have some of them and press "Save to Product List" button.
If want to know more information about the ingredient and see recipes where it is used then just click on it.
Read more about this ingredient
Save to Products List
save it!
Ingredients are successfully added to Your Product List.
Save it
or
continue reading
. You can edit and save it any moment in the left sidebar or in the top menu.
Instructions:
Prepare all ingredients to cook the Ukrainian ethnic dish Pearl Barley with cottage cheese.
Pearl barley wash in hot water. Then put it in pot and fill with hot water (1 liter, temperature ~ 70-90C) and give stand for 2 hours.
Drain the water, add fresh hot water (750 ml., ~ 70-90C), optionally add salt to taste, bay leaf, boil, reduce heat to low and cook under the lid closed until cooked ~ 30-40 minutes. Remains of water merge.
Mix the fresh cheese until it has creamy texture, optionally add melted butter, salt and milk.
Add to the cheese mass cooked pearl barley. Add cut greens.
6.
Cooked Pearl barley serve hot as the ready dish or with mushroom gravy, sauerkraut with mushrooms, gravy chicken hearts, turkey fillet stewed with fresh and pickled cabbage and greens, green beans (blades) in cream sauce with bacon