On the territory of Ukrainian lands people baked a bread using a sourdough starter. It was very popular from the ancient times till the last century.
Etnocook presrents the traditional recipe of the simplest sourdough starter, so-called  the natural "leaven", "head", "mother".
The starter is used for baking the Ukrainian ethnic traditional sourdough bread.
Sourdough starter from wholemeal flour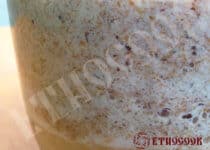 use tepid water (room temperature, 40 C (~105 F))
sometimes more time is needed, if the temperature is low
keep the starter in the glass or ceramic jar
the traditional Etnocook sourdough starter can be also freezed or dried
post-1841
Prep Time:

10 minutes

Cook time:

5day 0 h 0 min

Yield:

700 ml
Nutrition facts:
Calories
:
156 kcal/100g
;
Fat
:
3.5 grams
;
Known since
:
ancient times
;
Ingredients:
Mark the ingredients if you don't have some of them and press "Save to Product List" button.
If want to know more information about the ingredient and see recipes where it is used then just click on it.
whole-wheat flour -

350g (12½ oz)

water -

350ml (12½fl oz)

Optional
honey -

1 tbsp

Honey is a sweet food made by bees using nectar from flowers.
Honey gets its sweetness from the monosaccharides fructose and glucose

Honey Nutritional value per 100 g (3.5 oz)
Energy 1,272 kJ (304 kcal)
Carbohydrates 82.4 g
– Sugars 82.12 g
– Dietary fiber 0.2 g
Fat 0 g
Protein 0.3 g
Water 17.10 g
Riboflavin (vit. B2) 0.038 mg (3%)
Niacin (vit. B3) 0.121 mg (1%)
Pantothenic acid (B5) 0.068 mg (1%)
Vitamin B6 0.024 mg (2%)
Folate (vit. B9) 2 μg (1%)
Vitamin C 0.5 mg (1%)
Calcium 6 mg (1%)
Iron 0.42 mg (3%)
Magnesium 2 mg (1%)
Phosphorus 4 mg (1%)
Potassium 52 mg (1%)
Sodium 4 mg (0%)
Zinc 0.22 mg (2%)
Shown is for 100 g, roughly 5 tbsp.
Percentages are roughly approximated
using US recommendations for adults.
Source: USDA Nutrient Database
Save to Products List
save it!
Ingredients are successfully added to Your Product List.
Save it
or
continue reading
. You can edit and save it any moment in the left sidebar or in the top menu.
Instructions:
1. Mix water and flour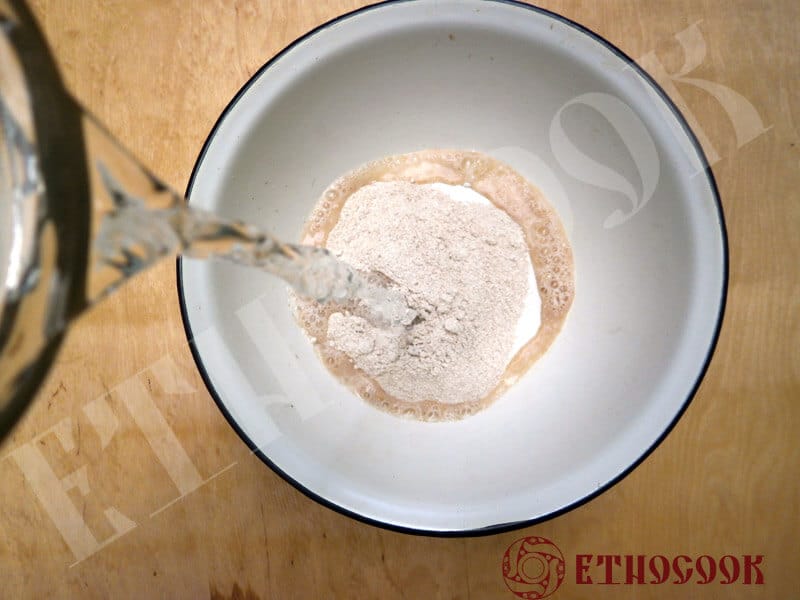 Mix 250 ml of water and 250 g of flour. Add ½ tbsp. of honey, optional. Put the dough into a container, cover. Leave it for 24 hours to rise in a roomtemperature.
2. Feed the starter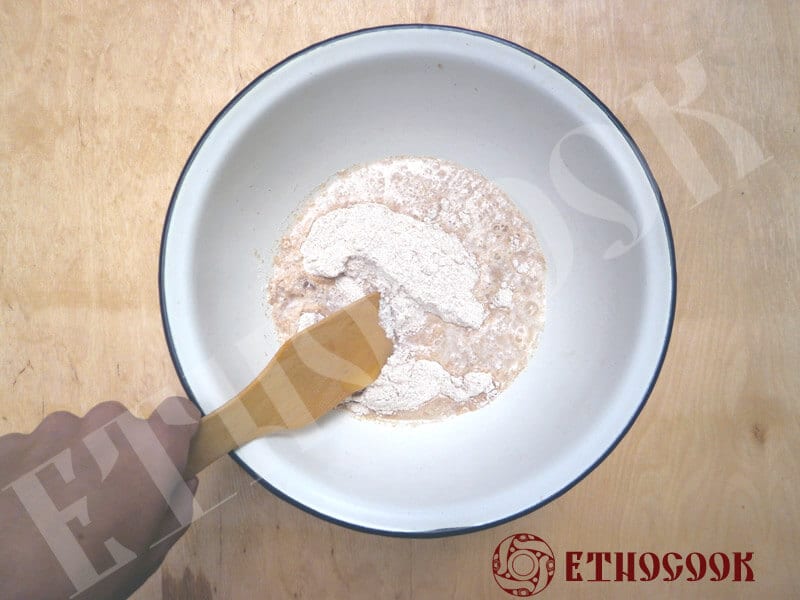 Add 50 ml of water and 50 g of flour. Add ½ tbsp. of honey, optional. Stir in, the ingredients must be thoroughly combined. Now the starter is "fed". Leave it for another 48 hours to rise in a roomtemperature.
3. Feed the starter again
Add 50 ml of water and 50 g of flour. Stir well. The starter must be bubbling actively. Leave it for another 48 hours to rise in a roomtemperature.
4.Ready sourdough starter
On the fifth day the sourdough starter is ready to be used for making the dough. Take the amount of the starter that you need and the rest keep covered in the refrigerator. If the fresh starter is needed, then return it to the room temperature and "re-feed" it, adding equal parts of the sourdough starter, whole wheat flour and water.
Step-by-step gallery