Chyr is a very ancient traditional ethnic Hutsul dish, very popular in mountain territory of Ukraine. It is the very simple traditional recipe of tasty soup.
Nowadays it is usually made of maize (corn) flour and milk. Actually corn appeared in Europe after Christopher Columbus discovered America in XVI century and was brought to Ukraine in XVII century. That's why all ancient ethnic traditional dishes in traditional cuisine such as Banosh, Chyr, Malay and others that nowadays are made with corn flour were made with wheat flour and rye flour.
Hutsul Soup Chyr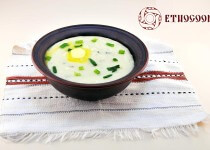 You can add some sour cream to ready dish or some more milk during preparing
close the ceramic pot when prepare Chyr with pot cover
there can be added any other cut green plants such as green dill or parsley
Chyr is served hot in deep plates
post-620
Prep Time:

10 minutes

Cook time:

20 minutes

Yield:

30
Ingredients of the Chyr
Mark the ingredients if you don't have some of them and press "Save to Product List" button.
If want to know more information about the ingredient and see recipes where it is used then just click on it.
Read more about this ingredient
Save to Products List
save it!
Ingredients are successfully added to Your Product List.
Save it
or
continue reading
. You can edit and save it any moment in the left sidebar or in the top menu.
Instructions: