Beekeeping was known to the Ukrainian ancestors 2-2,5 thousands years ago. Honey was widely used in Ukrainian recipes and as special cure. Also one of the most popular brewed drink in Kyiv Rus was made from honey. It was called Med and there were thousands of recipes how to make it. Honey was used in many everyday and ritual dishes, such as kutya, pampushky, oblyzni. Actually is was used in cooking instead of sugar.
In Kyiv Rus honey and wax were one of the main products of the state export known all over medieval world. In Code of Laws called 'Russka Pravda' honey was discussed in seven chapters. Actually nowadays Ukraine is still called a Honeyland and takes place among the top five global producers of honey. In fact, the number of bee families in Ukraine is more than 3.5 million and they produces 70 thousand tons of honey every year.
Honey has a very important place in Slavic cuisine and culture. As it is well known there is a special holiday in August that is dedicated to the end of the honey harvesting season and it is called Medovyi Spas.
In January 1814 Ukrainian beekeeper and scientist Petro Prokopovych constructed the world first frame hive and created a revolution in the apiculture. This frame beehive now is a standard for beekeepers in every country and is used without changes.
Honey candies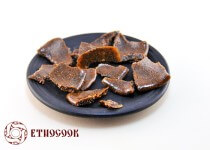 if You don't have allergy You can use any type of honey such as melilot, buckwheat, sainfoin, linden, clover, meadow, hop-clover, mint, grass meadow, sunflower, forest, valley, mountain, acacia and many other honyes
You can also add dried cherries, raisins, nuts, dried apricots to taste together to poppy seeds
post-531
Prep Time:

30 minutes

Cook time:

10 minutes

Yield:

250 g
Nutrition facts:
Calories
:
300 kcal/100g
;
Known since
:
ancient times
;
Ingredients of the Medivnychky (Honey Sweets)
Mark the ingredients if you don't have some of them and press "Save to Product List" button.
If want to know more information about the ingredient and see recipes where it is used then just click on it.
Read more about this ingredient
Save to Products List
save it!
Ingredients are successfully added to Your Product List.
Save it
or
continue reading
. You can edit and save it any moment in the left sidebar or in the top menu.
Instructions:
1. Put honey and poppy seeds into a pot.
2. Boil honey and poppy seeds on low heat.
3. Mass is poured into specially prepared surface (You can use a pan for baking laid by special paper for baking).
4. Give it time 10-15 minutes to be cool (it depends on different conditions, such as temperature in the room and humidity), but not completely dry out.
5. Cut the cool mass into little portions, Serve with hot drinks or as dessert.