Doughnut (ua. Pampushky, Pampuhy) is a traditional Ukrainian dessert food. Sweet Pampushky are little round fried buns, also known as  fried dough confection. In the old ethnic recipe, reconstructed by Etnocook, Ukrainian-styled Doughnuts Pampuhy are made of dough that includes leavening agents.
Doughnuts (donuts) can be made of different types of flours (wheat, oat, rye, buckwheat), with fillings or without them. In Ukraine sweet Doughnuts with poppy seeds (ua. Pampushky z makom) are very popular.
Pampushky as the ancient traditional ritual dish were made for weddings, funerals and big holidays such as Ukrainian Christmas (Rizdvo), Ukrainian Easter (Velykden).
Pampuhy (Doughnuts) with apple jam filling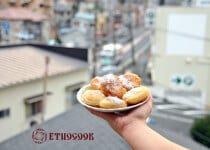 instead of water can be taken warm water
pampuhy can be prepared without eggs
You can take packet of active fresh yeasts (50 g) or active dry yeast or hops sourdough starter (100 g) or the simplest sourdough starter (100 g)
oil should be taken much to cook on the pan, so that the doughnuts could swim in it
remember, that it is not necessary to put on a lot of doughnuts into a pan at once , as they will increase during the heating
ready doughnuts can be sprinkled with powdered sugar and serve with jam
post-918
Prep Time:

03h 00min

Cook time:

45 minutes

Yield:

30 pampushok
Nutrition facts:
Calories
:
310 kcal/100g
;
Fat
:
12 grams
;
Known since
:
ancient times
;
Ingredients of the Pampuhy (Doughnuts with apple jam)
Mark the ingredients if you don't have some of them and press "Save to Product List" button.
If want to know more information about the ingredient and see recipes where it is used then just click on it.
Read more about this ingredient
Save to Products List
save it!
Ingredients are successfully added to Your Product List.
Save it
or
continue reading
. You can edit and save it any moment in the left sidebar or in the top menu.
Instructions:
Prepare all the ingredients for Donuts with apple jam

Prepare all the ingredients for Donuts (Ukrainian Pampushky) with apple jam. In this recipe a cow's milk, a high gluten wheat flower, canola oil (jp. キャノーラ油, made of rapeseed plats), an apple jam, a chicken egg, sugar, dry yeasts, salt, sugar powder are used. Etnocook recommends to avoid taking a too runny jam, take a more thick one.
2. Make a pampuhy dough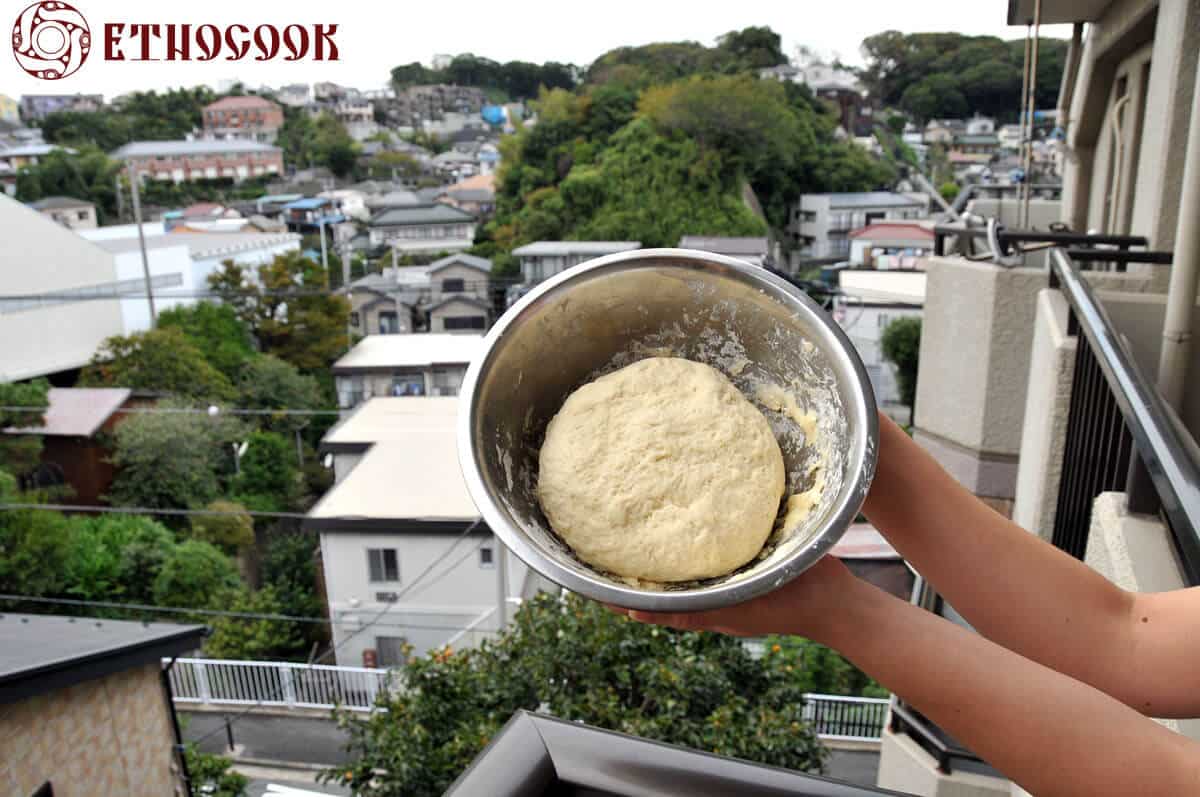 Mix yeasts with warm milk and one teaspoon of sugar and put in a warm place. Then add rest of sugar and sifted flour, 50 ml of oil, an egg, and make an elastic dough. Etnocook recommends to put it in a warm place at least for two hours to stay and grow, sometimes for longer (for night).
3. Roll the pampuhy dough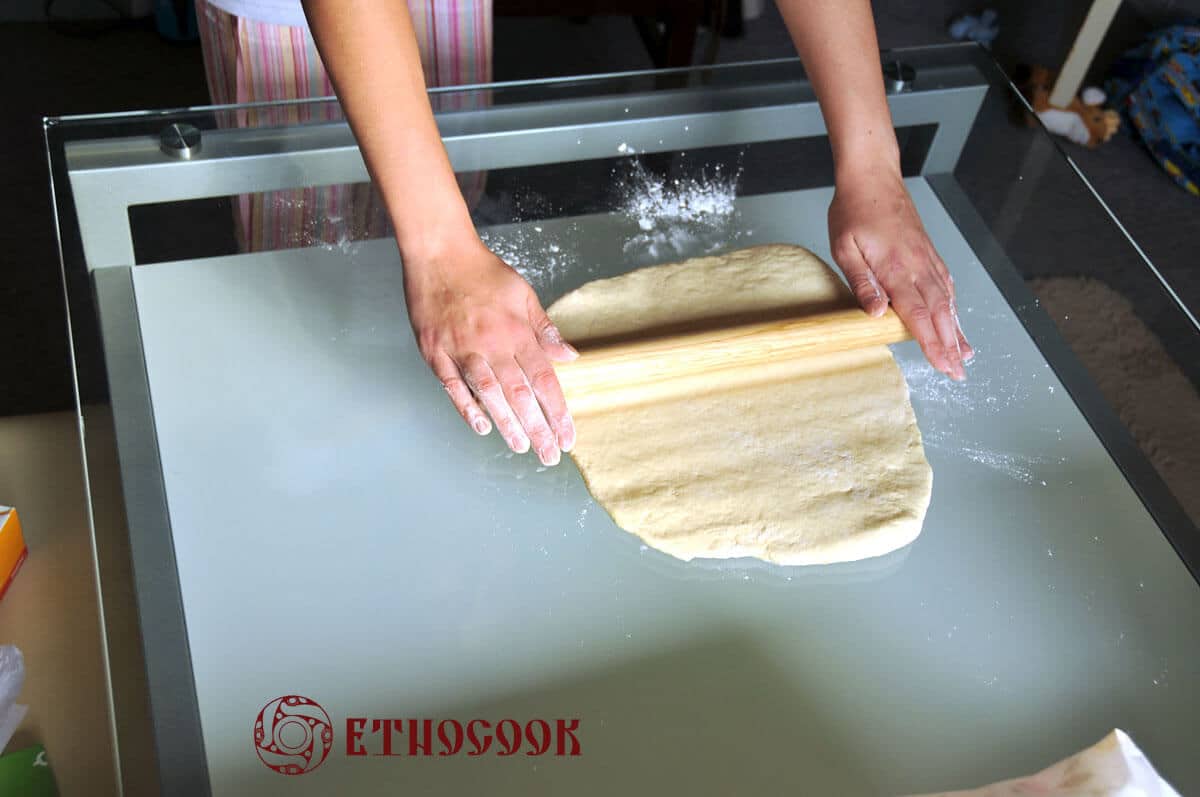 Two hours later , when our dough has increased in volume by half, we carefully roll out it  in a layer 1 cm thick
4.Put the filling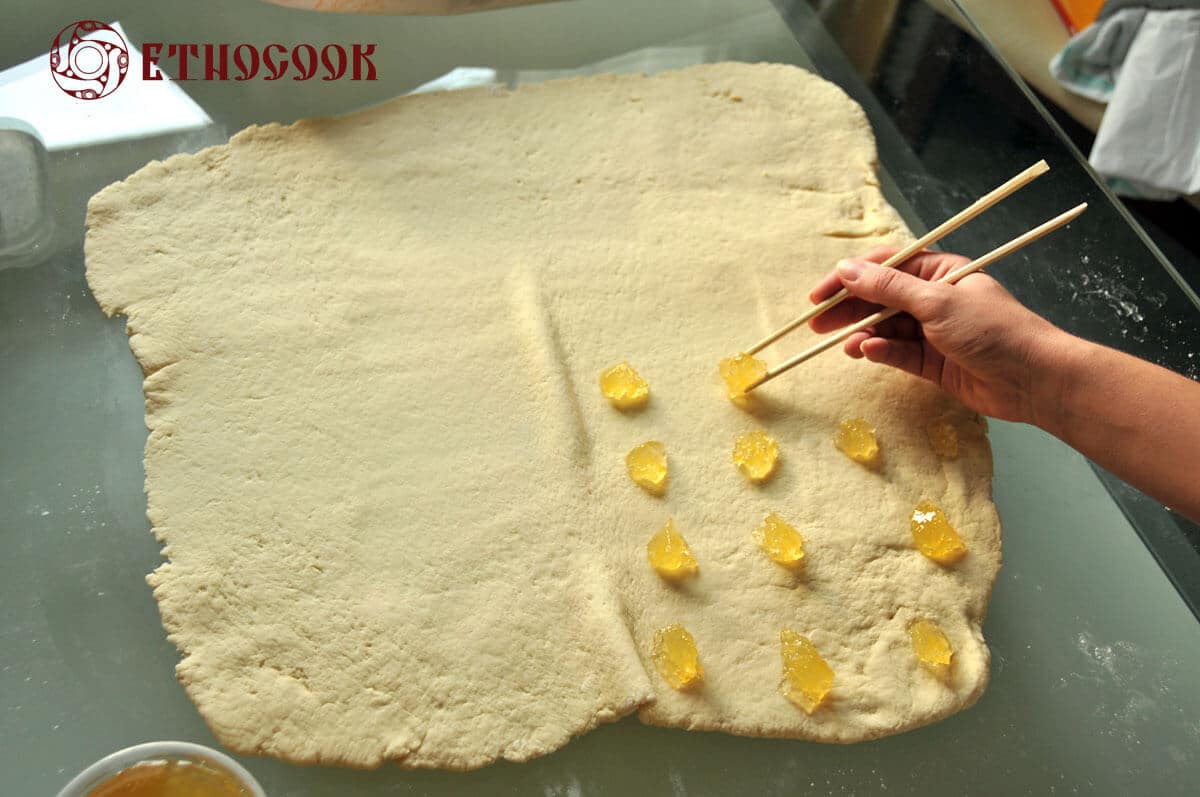 On one half of the rolled dough put a teaspoon of filling one by one, leave a 1 cm space between them.
5. Make doughnuts

Cover with half of filling the second half of the dough and cut by glass round donuts. Give little Ukrainian pampuhy time to stand and grow before cooking.
6. Cook the Ukrainian Pampuhy

In very good pre-heated oil in a pan put doughnuts, cover with a lid and reduce the heat to a very little . When the doughnuts are lightly browned , turn them the other side and keep until ready.
9.Serve the Ukrainian Pampuhy (Ukrainian doughnuts, Ukrainian donuts)
Once fried, top Ukrainian Pampuhy (Pampushky) with powdered sugar. Ukrainian Pampushky can be also glazed with a sugar icing and topped with cinnamon (especially good with apple filling)