Poultry in Ukraine was wide spread and almost in every household in village were hens. Although earlier Ukrainians didn't eat poultry meat, including chicken hearts, every day but usually on hollidays, especially Winter and Easter Hollidays.
Traditional Recipe for Ukrainian dish Chicken hearts and gravy of sour cream with vegetables and greenery from Etnocook is very simple, and popular.
Chicken hearts are often prepared with sour cream, are very tender, delicious. This Ukrainian ethnic recipe of stewed Chicken hearts allow the dish to have a wonderful taste a delicate flavor and aroma.
Ukrainian recipe of Chicken hearts with sour cream gravy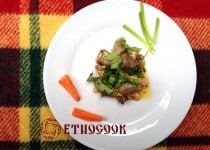 if the sauce is too thick, you can add 2-3 tablespoons of chiken broth (can be used from boiled chicken hearts)
to make the sauce thicker add while stewing 1 tbsp of flour or potato starch
stewed chicken hearts are suitable for the preparation of any of the first, second dishes, snacks, and can be a separate dish
post-1306
Prep Time:

03h 10min

Cook time:

30 minutes

Yield:

4 servings
Nutrition facts:
Calories
:
196 kcal/100g
;
Fat
:
8 grams
;
Known since
:
Middle Ages
;
Ingredients of the Chicken hearts stewed in sour cream sauce
Mark the ingredients if you don't have some of them and press "Save to Product List" button.
If want to know more information about the ingredient and see recipes where it is used then just click on it.
Read more about this ingredient
Save to Products List
save it!
Ingredients are successfully added to Your Product List.
Save it
or
continue reading
. You can edit and save it any moment in the left sidebar or in the top menu.
Instructions:
1.Boil chicken hearts

Chicken hearts rinse in cold water. Cut off excess fat and blood vessels from chicken hearts. Put chicken hearts into a pot, fill with cold water, bring to a boil, put the small fire, add the optional salt, black pepper and bay leaf and cook for 10 minutes.
2.Cut chicken hearts into pieces
Broth filter into a separate pot. Chicken hearts rinse in cold water and cut along or across on two or three parts.
3.Cut onions and garlic into pieces

Peel off the dry skin of onions and garlic, cut them into small pieces.
4.Stew chicken hearts with onion, garlic 
Stew onion and garlic in the pan in hot oil until lightly browned. Add chicken hearts in pan with onions, simmer over low heat in a tightly closed lid ~ 15 min., stirring from time to time.
5.Add carrots and sour cream

Add the grated carrots on a fine grater, fold, simmer another 5 minutes. Add the sour cream, carefully fold, salt to taste, simmer on low heat under the lid closed for another 5 minutes, don't forget stirring.
6.Serve chicken hearts stewed with vegetables in sour cream

Serve the traditional Ukrainian dish Chicken hearts stewed in sour cream with greenery. Chicken hearts with sour cream gravy are perfect with dumplings and vegetable dishes.