The Ukrainian Hutsul traditional dish of tender fresh unripe pods of beans cooked in sour cream is very famous, popular and delicious.
Ukrainians began to use in food various cultivars of the common bean Phaseolus vulgaris in the XVII century. As it is well known Ukrainian stewed vegetables with pork rinds are popular throughout the world.
To cook incredible traditional Ukrainian dish "Snap beans stewed in sour cream with pork rinds" using the recipe from the culinary web resource of ethnic slavic cuisine Etnocook, You'll need "lopatky". The young snap beans Ukrainian Hutsul peaple call "lopatky" and use these unripe vegetables to prepare tasty and nutritional dish of the ethnic Ukrainian cuisine.
For this Ukrainian recipe can be taken green or wax beans (with a yellow or white pod), string beans, stringless beans, runner beans. Flavorful, juicy immature pods of beans have delicate flavor and almost no coarse fibers.
Unripened beans with sour cream and pork rinds
before stewing span beans can be boiled in salted water for 2-3 minutes
canned green beans can be used instead of fresh vegetables
carrots, onions and garlic can be cut into small pieces by knife
pork rinds can be made of pork and goose fat
a spoon of starch of flower can be added at the end of cooking to make the sauce more thick
Ingredients:
Mark the ingredients if you don't have some of them and press "Save to Product List" button.
If want to know more information about the ingredient and see recipes where it is used then just click on it.
carrot -

100 g

vegetable oil (sunflower oil) -

50 ml

onion -

70 g

garlic -

5 g

sour cream -

100 g

Sour cream is a dairy product obtained by fermenting a regular cream with certain kinds of lactic acid bacteria

dill -

~10 g, to taste

salt -

~4 g, to taste

Salt is a mineral substance composed primarily of sodium chloride (NaCl)

Salt is present in most foods, but in naturally occurring foodstuffs such as meats, vegetables and fruit, it is present in very small quantities. It is often added to processed foods to make their flavour more appealing and is also present at higher levels in preserved foods.

In many East Asian cultures, salt is not traditionally used as a condiment.In its place, condiments such as soy sauce, fish sauce and oyster sauce tend to have a high sodium content and fill a similar role to table salt in western cultures. They are most often used for cooking rather than as table condiments.

Table salt is made up of just under 40% sodium by weight, so a 6 g serving (1 teaspoon) contains about 2,300 mg of sodium.

Sodium serves a useful purpose in the human body: it helps nerves and muscles to function correctly, and it is one of the factors involved in the autoregulation of water content (fluid balance).[49] Most of the sodium in the Western diet comes from salt

Too much sodium is bad for health, and health organizations generally recommend that people reduce their dietary intake of salt. High salt intake is associated with a significantly greater risk of stroke and total cardiovascular disease in susceptible people. In adults and children with no acute illness, a decrease in the intake of sodium from the typical high levels reduces blood pressure and provides a health benefit, and a low salt diet results in an even greater improvement in blood pressure in those with hypertension than in those without. A reduction in salt intake of 5 g per day has been found to be associated with a 23% reduction in the rate of stroke and a 17% reduction in the rate of total cardiovascular disease. The World Health Organization recommends that all adults should consume less than 2,000 mg of sodium (5 g of salt) per day. A 2013 report from the Institute of Medicine states that there is insufficient evidence to show that there is any additional benefit in lowering sodium intake to less than 2,300 mg per day.

sugar -

~2 g, to taste

Sugar is the generalized name for a class of chemically-related sweet-flavoured substances: carbohydrates, composed of carbon, hydrogen and oxygen.

Pork rinds
salo (pork fat) -

100 g
Save to Products List
save it!
Ingredients are successfully added to Your Product List.
Save it
or
continue reading
. You can edit and save it any moment in the left sidebar or in the top menu.
Instructions:
1.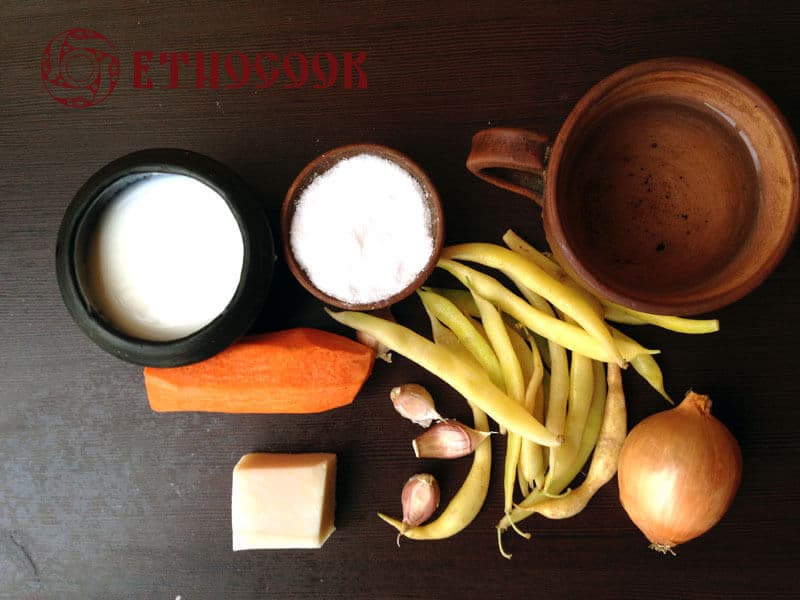 Prepare all ingredients to cook the Ukrainian traditional dish with snap beans in sour cream and pork rinds.
2.
Wash vegetables in cold water, peel. Cut onion into small pieces; rub carrot on a fine grater, mash garlic.
3.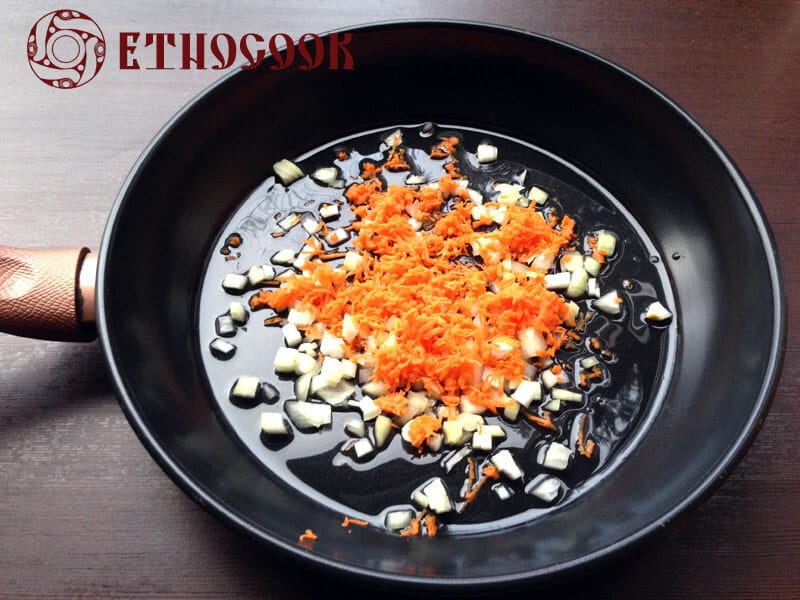 Carrot and onions lightly fry in vegetable oil in a frying pan until light golden brown.
4.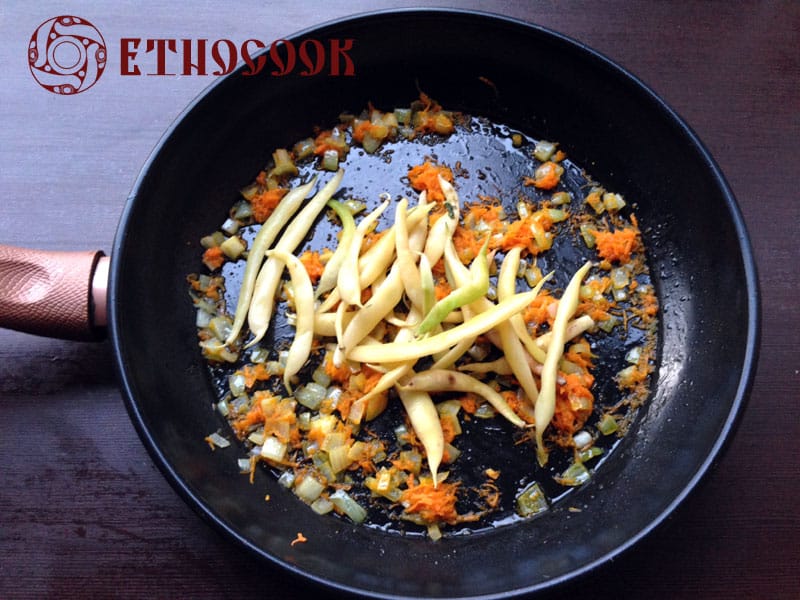 Add washed beans, cover and stew over low heat for ~ 15 min., mix time-to-time.
5.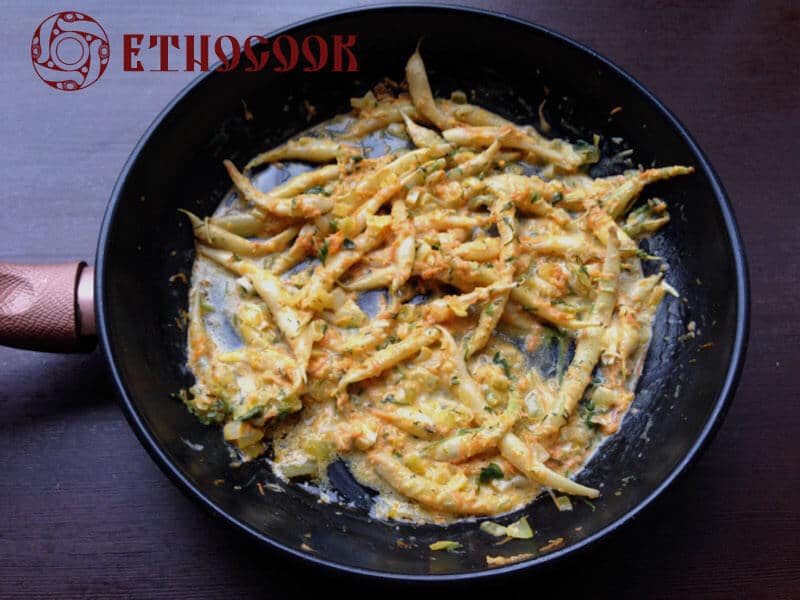 Add mashed garlic, sour cream, parsley, salt and sugar to taste, cover, stew about 5 minutes.
6.
To cook pork rinds cut pork fat into thin slices~ 2x2 cm.
7.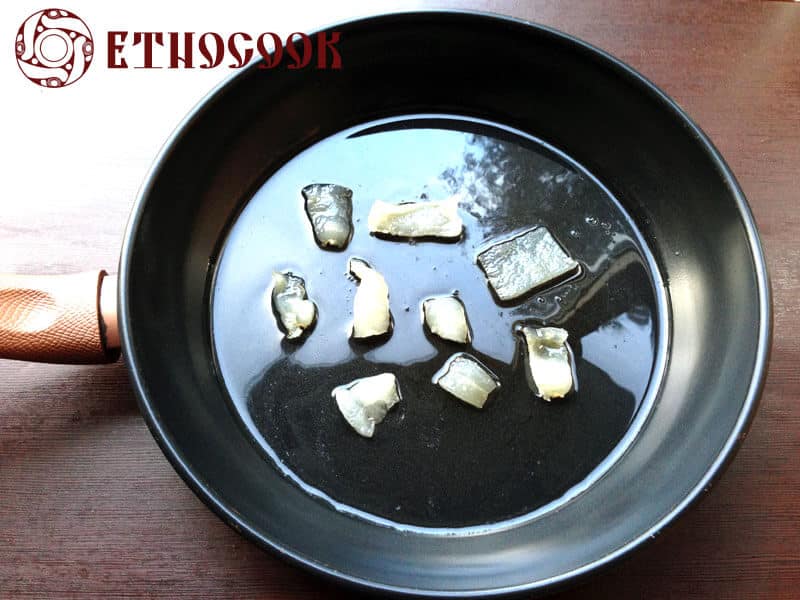 In a dry frying pan on the low heat fry slices of fat until cracklings are thin and slightly crispy, lightly golden brown.
8.
Serve traditional Ukrainian dish "Snap beans in sour cream" hot with pork rinds and green dill.
Step-by-step gallery