What is the traditional Ukrainian Poppy Seed Roll Makivnyk?
Makivnyk (ukr. Rulet z makom, Makivnyk, Makivnychok, Makovyk) is an ethnic sweet pastry roll made of fluffy sourdough yeast dough with poppy seeds filling. Poppyseed rolls Makivnyky are usually baked for Winter Holidays (Ukrainian Christmas) and Spring Holidays Velykden (Ukrainian Easter). It is very famous among ancient ethnic dishes in traditional cuisine.
Where is poppy seed roll from?
Poppy seed roll Makivnyk is from Ukraine. The tradition to bake poppy seed rolls Makivnyky came from the most powerful country in the European continent in the IX-XIII centuries Kyiv Rus (Kievan Rus') with the center on the territories of modern Ukraine. Ukrainian ancestors used poppy seeds as a filling in a lot of sacral and everyday dishes such as a ritual Ukrainian Christmas wheat berries pudding Kutia,  dumplings with poppy seeds filling Varenyky z makom, honey sweets Medivnychky, etc.
The word Makivnyk comes from the Ukrainian word "mak" which is for poppy seeds in Ukrainian. The tradition to bake Makivnyk stays in several other Slavic cuisines and the root "mak" can be seen in the name of the poppy seed roll in such languages as Romanian (coarda cu mac or coarda cu nucă), Slovenian (makova potica), Latvian (magonmaizite), Lithuanian (aguonų vyniotinis), Czech (makový závin), Hungarian (mákos bejgli), Slovak (makovník), Polish (makowiec), Croatian (makovnjača), and others.
Poppy seeds in the Ukrainian tradition
Poppy seed filling in ancient times was made only for special occasions and symbolized in the Ukrainian Slavic ideology the stars in the sky and plurality of the worlds.
There are different ethnic Ukrainian traditions connected to the Poppy flower and poppy seeds. One of them is a kind of ancient spring round women dance with the song:
 "At the valley of the poppy, at the wide valley of poppy, Oh, the poppy is pure, big headed, and rooty. Young young women, cover your heads, You stand in a row, there will be a poppy on the top. "
It is an echo of the pre-historic vegetative magic ritual when the mother was the head of the family, the "top".
According to the old custom, when an old woman with many grandchildren dies, a little poppy is tied in a knot and placed next to it so that there is something in the other world to sprinkle on the grandchildren when they come to ask for food.
Ukrainian poppy seed roll recipe
The recipe of the ethnic Ukrainian sweet cake Makivnyk with poppy seeds filling is very simple and doesn't need much ingredients and time.
There are different variations of the traditional poppy seed makovyi knush, however, Etnocook reminds you that they don't have anything in common with the ethnic Ukrainian recipe of the authentic poppy seed roll Makivnyk.
Makivnyk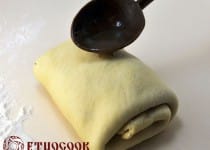 Makivnyk cooking instructions
Poppy Seed Roll can be cooked without eggs
chicken eggs can be replaced by quail eggs, the rate of 1: 2
You can use a packet of active fresh yeasts (50 g) or active dry yeast or hops sourdough starter (100 g) or the simplest sourdough starter (100 g)
use baking yeasts according to instructions
instead of milk in dough if necessary use warm water
if dough is too dry add more milk or water
poppy seeds can be put in hot milk instead of hot water
in the filling can be added raisins, dried berries, butter, minced chestnuts or walnuts, honey to taste
post-1252
Prep Time:

03h 00min

Cook time:

40 minutes

Yield:

2 rolls
Nutrition facts:
Calories
:
100 kcal/100g
;
Fat
:
5 grams
;
Known since
:
Kyiv Rus
;
Ingredients of the Makivnyk (Ukrainian Poppy Seed Roll Recipe)
Mark the ingredients if you don't have some of them and press "Save to Product List" button.
If want to know more information about the ingredient and see recipes where it is used then just click on it.
Read more about this ingredient
Save to Products List
save it!
Ingredients are successfully added to Your Product List.
Save it
or
continue reading
. You can edit and save it any moment in the left sidebar or in the top menu.
Instructions:
Preparation time for the recipe of Ukrainian Poppy Seed Roll (Makivnyk) by  Etnocook is: 12 hours for dough (with homemade sourdough starter) or 3 hours with fresh or dry yeasts + 1,5 hour to prepare and 40 min to cook
1. Prepare all the igredients for Makivnyk and make a dough
Make sure to have all the necessary ingredients for the Ukrainian sweet poppy seed roll Makivnyk. Soak raisins and other dried berries if you use any, wash eggs, sift the flour twice to make the future Makivnyk light, fluffy, and with a nice texture.
Add yeasts, warm milk(~30 C), and sugar or honey to flour (to taste), mix and put in a warm place for 2 hours to raise. Add eggs, butter (100g, melted), salt to taste, form elastic dough and put it in a warm place for 1 hour (for dry or pressed yeast) or for 10 hours if the dough is with the homemade sourdough starter.
2. Cook poppy seeds for Makivnyk
Put poppy seeds in hot water for 30 min. As it was said in Etnocook Makivnyk cooking instructions, water can be replaced in equal amounts for making the taste of the poppy seeds roll better. Drain the liquid and spread the seeds in one layer on the clean surface or big plate to dry them a little.
3. Make the poppy seed roll filling
Grind poppy seeds for Makivnyk into a paste in a makitra (mortar and pestle) or a food processor. Add honey or sugar to taste. Etnocook draws your attention that the filling mustn't be too runny, don't overgrind it.
4. Roll out the poppy seed roll yeast dough for the Ukrainian Makivnyk
Put some flour on a work surface and knead the dough for 10 minutes, divide it into 2 parts, roll in rectangular or oval forms ~ 1-1.5 cm thick. Put the poppy seed filling. Add raisins, honey, minced nuts, butter (optional). Put longer opposing edges to the middle.
5. Form sweet poppy seed rolls Makivnyky
Roll smaller edges, forming the Ukrainian Poppy Seed Roll. Make the same with the second piece of dough. Put Makinnyky on the greased pan in a warm place for 1 hour to rise, not close to prevent sticking.
6. Brush an egg on poppy seed rolls Makivnyky
Beat egg yolk in a bowl and brush the rolls with it before baking for a nice brown colour and shine on the top. Etnocook notes, that a table spoon of milk (for extra brown color) or water (for extra crisp) can be added to the poppy seed rolls egg glaze.
7. Bake and serve the Ukrainian poppy seed roll Makivnyk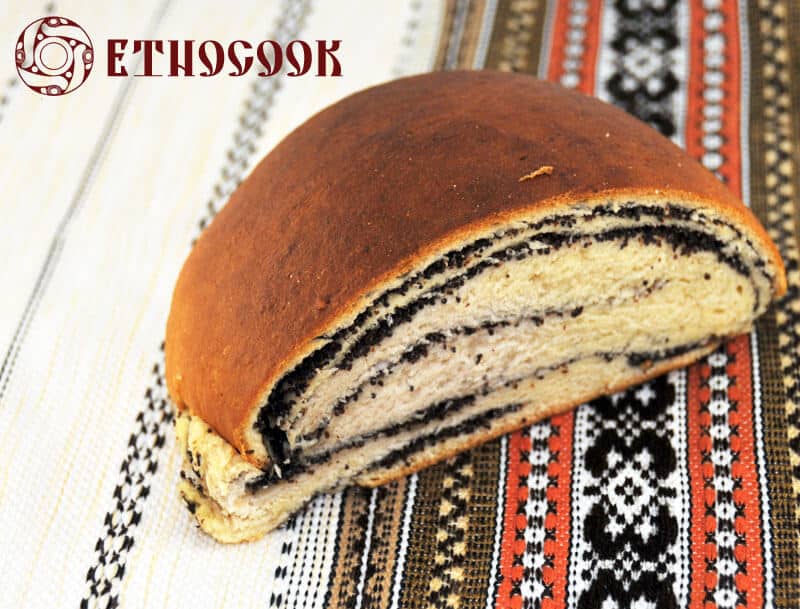 Preheat the oven to 180C, turn the heat to 120C and bake Poppy Seed Rolls in for ~40 min (in the electric oven use convection 170C for 30 min). Turn on the top heating for additional 10 mins.
Take the baked rolls from the oven and let them cool down.
Cut the Ukrainian Poppy Seed Roll into slices and serve. The best tastes with the Ukrainian traditional compote from dried berries Uzvar.