Ukrainian traditional recipe of the ethnic sweet roll Makivnyk with poppy seeds filling is very simple and doesn't need much ingredients and time.
Poppy Seed Roll is very popular pastry in Ukraine commonly baked on Winter and Spring Holidays (especially at Christmas and Easter). It is very famous among ancient ethnic dishes in traditional cuisine .

Makivnyk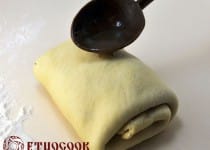 Poppy Seed Roll can be prepared without eggs
chicken eggs can be replaced by quail eggs, the rate of 1: 2
You can take packet of active fresh yeasts (50 g) or active dry yeast or hops sourdough starter (100 g) or the simplest sourdough starter (100 g)
use baking yeast according to instructions
instead of milk in dough if necessary use water
if dough is too dry add more milk or water
poppy seeds can be put in hot milk instead of hot water
in the filling can be added raisins, butter, honey to taste
post-1252
Prep Time:

03h 00min

Cook time:

40 minutes

Yield:

2 rolls
Nutrition facts:
Calories
:
100 kcal/100g
;
Fat
:
5 grams
;
Known since
:
Kyiv Rus
;
Ingredients:
Mark the ingredients if you don't have some of them and press "Save to Product List" button.
If want to know more information about the ingredient and see recipes where it is used then just click on it.
Dough
wheat flour -

500 g

Wheat flour is a powder that is obtained by grinding wheat..

Wheat varieties are called "clean", "white", "brown" or "hard" if they have high gluten content, and they are called "soft" or "weak" flour if gluten content is low. Hard flour, or bread flour, is high in gluten, with 12% to 14% gluten content, and has elastic toughness that holds its shape well once baked. Soft flour is comparatively low in gluten

yeast -

8 g

milk -

200 g (~ 1 glass )

butter -

150 g (100g for dough + 50g to grease a pan)

Butter is a dairy product made by churning fresh or fermented cream or milk. It is generally used as a spread and a condiment, as well as in cooking, such as baking, sauce making, and pan frying. Butter consists of butterfat, milk proteins and water.

Butter, unsalted
Nutritional value per 100 g (3.5 oz)
Energy 2,999 kJ (717 kcal)
Carbohydrates 0 g
Fat 81 g
– saturated 51 g
– monounsaturated 21 g
– polyunsaturated 3 g
Protein 1 g
Vitamin A equiv. 684 μg (86%)
Vitamin D 60 IU (10%)
Vitamin E 2.32 mg (15%)
Cholesterol 215 mg

sugar -

100 g

Sugar is the generalized name for a class of chemically-related sweet-flavoured substances: carbohydrates, composed of carbon, hydrogen and oxygen.

egg -

2

salt -

~ 4 g, to taste

Salt is a mineral substance composed primarily of sodium chloride (NaCl)

Salt is present in most foods, but in naturally occurring foodstuffs such as meats, vegetables and fruit, it is present in very small quantities. It is often added to processed foods to make their flavour more appealing and is also present at higher levels in preserved foods.

In many East Asian cultures, salt is not traditionally used as a condiment.In its place, condiments such as soy sauce, fish sauce and oyster sauce tend to have a high sodium content and fill a similar role to table salt in western cultures. They are most often used for cooking rather than as table condiments.

Table salt is made up of just under 40% sodium by weight, so a 6 g serving (1 teaspoon) contains about 2,300 mg of sodium.

Sodium serves a useful purpose in the human body: it helps nerves and muscles to function correctly, and it is one of the factors involved in the autoregulation of water content (fluid balance).[49] Most of the sodium in the Western diet comes from salt

Too much sodium is bad for health, and health organizations generally recommend that people reduce their dietary intake of salt. High salt intake is associated with a significantly greater risk of stroke and total cardiovascular disease in susceptible people. In adults and children with no acute illness, a decrease in the intake of sodium from the typical high levels reduces blood pressure and provides a health benefit, and a low salt diet results in an even greater improvement in blood pressure in those with hypertension than in those without. A reduction in salt intake of 5 g per day has been found to be associated with a 23% reduction in the rate of stroke and a 17% reduction in the rate of total cardiovascular disease. The World Health Organization recommends that all adults should consume less than 2,000 mg of sodium (5 g of salt) per day. A 2013 report from the Institute of Medicine states that there is insufficient evidence to show that there is any additional benefit in lowering sodium intake to less than 2,300 mg per day.

Filling
poppy seeds -

250 g

water -

500 ml

sugar -

100 g

Sugar is the generalized name for a class of chemically-related sweet-flavoured substances: carbohydrates, composed of carbon, hydrogen and oxygen.
Save to Products List
save it!
Ingredients are successfully added to Your Product List.
Save it
or
continue reading
. You can edit and save it any moment in the left sidebar or in the top menu.
Instructions:
Preparation time for the recipe of Ukrainian Poppy Seed Roll (Makivnyk) by  Etnocook is: 12 hours for dough (with homemade sourdough starter) or 3 hours with fresh or dry yeasts + 1,5 hour to prepare and 40 min to cook
1.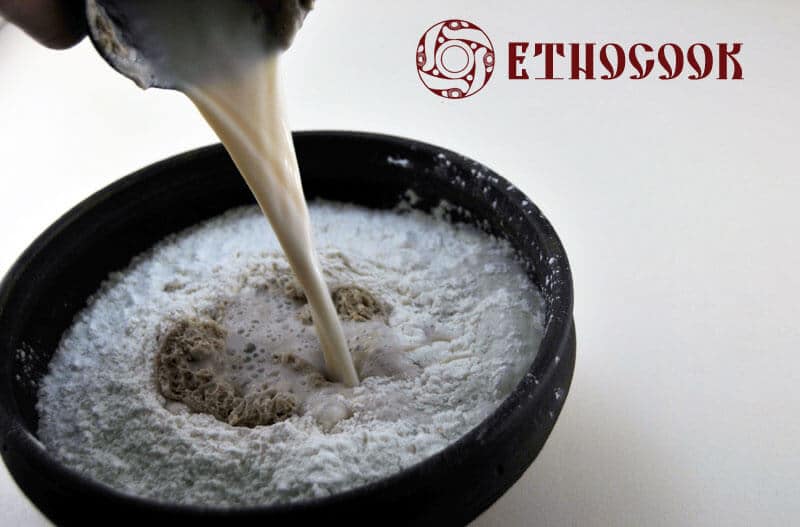 Add yeasts, warm milk(~30 C) and sugar to flour, mix and put in a warm place for 2 hours to raise. Add eggs, butter (100g, melted), salt to taste, form elastic dough and put it in a warm place for 1 hour (for dry or pressed yeast) or for 10 hours if the dough is with the homemade sourdough starter.
2.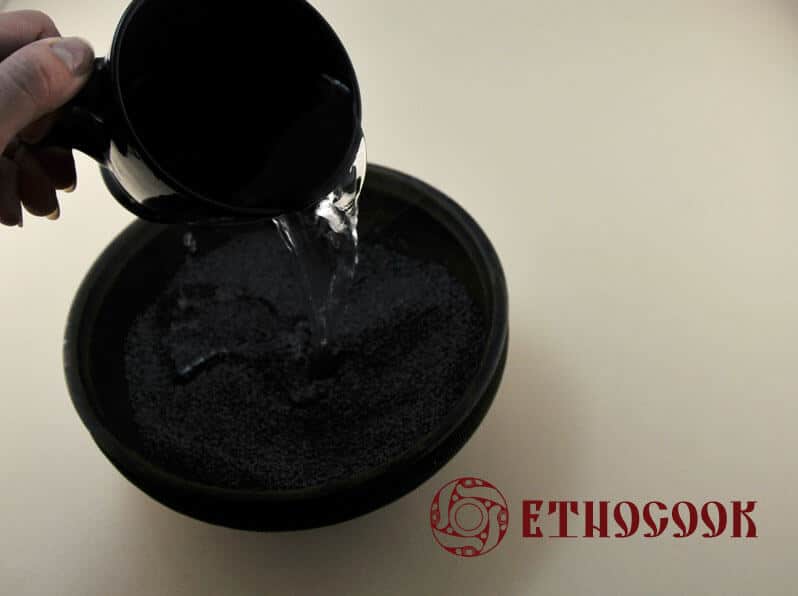 Put poppy seeds in hot water for 30 min.
Drain the water, add sugar and grind into a paste (can be used a food processor).
Put some flour on a work surface and knead dough for 10 minutes, divide it into 2 parts, roll in rectangular or oval form ~ 1-1.5 cm thick. Put filling, to taste add raisins, honey, butter. Put longer opposing edges to the middle.
Roll smaller edges, forming Poppy Seed Roll. Make the same with the second piece of dough. Put Makinnyky on the greased pan in warm place for 1 hour.
Beat egg yolk in a bowl and brush the rolls with it.
Step-by-step gallery