Fresh cheese with spices and herbs in oil is very tasty as itself and as the addition to different dishes. This very old, popular and well known technology how to prepare is really simple and doesn't take a lot of time
Fresh cheese with spices and herbs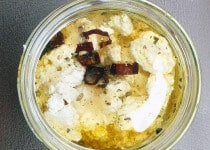 you will need two jars 0,5 l. - one for cheese and one for oil and spices
this cheese should be stored in the refrigerator not more than 1 month
oil from marinated cheese is very good for salads
you can marinate fresh goat cheese, fresh cow cheese or another type of cheese
jar shake several times a day gently for cheese better absorbed spices
post-187
Prep Time:

15 minutes

Cook time:

3 days minutes

Yield:

0,5 l jar with cheese
Nutrition facts:
Known since
:
XII century
;
Ingredients of the Goat cheese with spices and herbs
Mark the ingredients if you don't have some of them and press "Save to Product List" button.
If want to know more information about the ingredient and see recipes where it is used then just click on it.
Read more about this ingredient
Save to Products List
save it!
Ingredients are successfully added to Your Product List.
Save it
or
continue reading
. You can edit and save it any moment in the left sidebar or in the top menu.
Instructions:
1. Bay leaf and stems of dill put in sterilized jars, separately all the other spices mix thoroughly.
2. Goat cheese cut ~ 1x1 cm size and put in the bank's 0.5 l with bay leaves and stalks of fennel.
3. In a separate clean jar pour oil and add the thoroughly mixed spices.
4. Mix oil with spices.
5. Fill the jar with cheese with spices oil. Give it to stand in a cool place (preferably in the refrigerator) for three days.