Our ancestries baked a great variety of rolls and cookies with cheese fillings. Sochnyky are cookies with sweet cottage cheese filling. We can choose different types of flours and even a mix of them and add seeds, for example, poppy seeds. In Kyiv Rus they were made from rye flour only by hand, not using any form or knife. Sochnyky were traditionally made before Slavic Christmas in northern Slavic tribes. Because of that tradition to cook Sochni (another name of Sochnyk) those days were called "sochelnyk".
Baked cookies with sweet cheese Sochnyky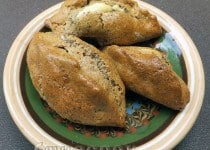 don't be afraid that cookies are open, because the cheese filling will stay insight
instead of water you can take the appropriate amount of sour cream and make the dough only with the cream
flour can be taken half rye and half wheat
flour in the filling can be substituted with semolina
after baking cool sochnyky preferably on the grid to avoid deformation
post-95
Prep Time:

30 minutes

Cook time:

30 minutes

Yield:

20 cookies
Nutrition facts:
Calories
:
0,2 kcal/100g
;
Fat
:
2 grams
;
Known since
:
10 centurie
;
Ingredients of the Sochni (Sochnyky): Sweet cookies with cheese
Mark the ingredients if you don't have some of them and press "Save to Product List" button.
If want to know more information about the ingredient and see recipes where it is used then just click on it.
Read more about this ingredient
Save to Products List
save it!
Ingredients are successfully added to Your Product List.
Save it
or
continue reading
. You can edit and save it any moment in the left sidebar or in the top menu.
Instructions:
1. Sift flour and add baking powder or baking soda. In melted butter add eggs add sugar and rub. To this mass add sour cream, salt, poppy seeds, and make the dough, pouring water if needed. Put the dough for 10 minutes in the refrigerator, then knead it very well by hands. Roll out the dough on a lightly floured surface until about 0.5 cm thick. Cut with a glass or pastry cutter into rounds about 50mm in diameter.

2.For the filling cheese grind very well, add the flour, sugar, eggs, salt and add the vanilla sugar. In one round put 1 tbsp of filling
3. The edges of the rounds can be just covered without pressing or pressed with the cut in the middle or close up the gap and then cut slit on the top
4. Mix an egg with milk and put on the top
5. Put in prepared form, bake in preheated 200C oven for ~30 minutes.