Varenyky, Ukrainian Dumplings with filling are known since ancient times and are very special among the most popular Slavic dishes originating in Ukraine. In the ethnic Ukrainian cuisine, Varenyky were well known as the most popular dishes in Kyiv Rus (Kievan Rus') together with Ukrainian Borshch and Pampushky.
Varenyky (Pyrohy) is a very popular everyday and ritual stuffed pasta made of unleavened dough with fillings and then boiled or steamed. It is made with different fillings, like cottage cheese, cabbage, poppy seeds, different berries, boiled meat, porridges and even fried flour.
What is special about Varenyky is that they were usually done on Sundays or different special days, such as weddings, memorial lunch, giving name ritual, childbirth, ritual holidays, harvest gathering. Varenyky have the moon shape and are very symbolic. In Ukraine was a tradition that the first dish in ancient times that mother ate after childbirth was Varenyky and people who cooked them wished her to have a lot of children and said: "Be always full like varenyk".
Pyrogy (Pyrohy) or Varenyky is one of the 12 sacred dishes on traditional Christmas dinner that were formed in 8-9 centuries before the adoption of Christianity and were then inherited in Medieval Ukrainian cuisine.
Varenyky is so important Ukrainian dish that there are monuments to them in Ukraine and all over the world in other places where Ukrainians live.
The best easy recipes of Ukrainian dumplings Varenyky (also known as pierogi, pirogi, pirohy, pyroh) by the Ukrainian food blog Etnocook have a lot of tips and useful pieces of advice.
How to pronounce varenyky
The word "Pyrogy" ("pyrohy") is the ancient Slavonic word "pirog'" that is – formed from the word "pir'" ("feast") with the suffix -og' or from the word "руго" ("wheat"), the ancient slavic word "pyro" under the influence of the word "pir'" ("feast").  [1]
The word "Varenyky" is from the Ukrainian word "varyty" ("to boil"). [2]
The transcription of the word varenyky is: /vaˈɹɛnyky/
It must be underlined, that the accent is on the second, "re" /ˈɹɛ/ syllable.
Don't use long /iː/ instead of  /y/  because this will sound like the Russian variant of the pronunciation.
The singular form of Varenyky (name of a dish) is Varenyk (one dumpling).  [3]
How to make flour Ukrainian dumplings Vareniki
What is the process of making dough for varenyky?
For Ukrainian dumplings with filling Varenyky take white wheat (all-purpose) flour or any mix of flours you like. The whole-wheat flour has all of the grain (bran, germ, and endosperm), it contains vitamins, minerals (selenium), protein, calcium, iron, fibre. Whole-grain wheat flour is very nutritious and mixed with the white flower makes a perfect dough for Varenyky.
The usual proportions of the most important ingredients for stuffed dumplings are 100 g of flour, 40 ml of water and 110 g of filling for one portion. However, keep in mind that everything depends on the situation, the quality and the specific of foods so sometimes you'll need more or fewer ingredients.
To make dough for Varenyky mix flour, water and other ingredients from the recipe. Knead until the dough becomes elastic and doesn't stick to your hands. Cover it with a linen cloth and leave for half an hour.
Pay additional attention, that in case if you prefer buckwheat flour, there is a special technology how to make such  Varenyky.
The ancient Ukrainian way how to form dough wrappers for stuffed dumplings Varenyky
Actually, there are a lot of variants on how to make dumplings with fillings. The ethnic Ukrainian Varenyky have a form of a crescent. The round forms for Varenyky are made in two the most popular ways. The first and the most common is to roll out a thing dough layer and make round forms with the help of a mug or a glass, put the filling on the centre and close the edges.
The traditional Ukrainian method how to form Vareniki is to roll the dough into a rope (tube shape) 1 inch (approximately 25 mm) in diameter and divide it into 1 inch (25 mm) sections.  Then make by hands flat thin rounds, put a filling on the center of each and pinch the opposite edges. You can find a photo recipe the detailed instructions on how to do this in the Etnocook recipe of the Pyrohy with cabbage filling.
Recipes of the best fillings for dumplings Varenyky
The fillings for the Ukrainian stuffed dumplings can be very different. Usually, vegetables, cheese, meat, fish or berries are used. A more rare variant is a poppy seed filling made for some special occasions.
There was no potato in Ukraine until it was brought from South America in XVI century, so varenyky with potato filling are not an ancient dish.
The traditional Ukrainian dish Dumplings with bilberry filling (Varenyky z chornytsiamy, ukr.) is made by wrapping unleavened dough around berries filling and cooked in boiling water. It is very special, as bilberries are well known medicinal plants. Bilberry is used for centuries by Ukrainians to improve eyesight, treat different eye conditions (for example cataracts and disorders of the retina), atherosclerosis, varicose veins, chronic fatigue syndrome (CFS), hemorrhoids, diabetes, osteoarthritis, gout, skin infections, gastrointestinal (GI) disorders, kidney disease, and urinary tract infections (UTIs) and improve diarrhea.
One of the most popular fillings was fresh cottage cheese mixed with dill, Varenyky with cheese and vegetables filling (steamed)
See also traditional Ukrainian recipes from the cooking blog of ethnic Slavic cuisine Etnocook: Traditional Varenyky (Pyrohy): step-by-step recipe with video, Varenyky with sauerkraut filling, sweet Ukrainian Varenyky with poppy seed filling
The recipe from the traditional  Etnocook how to make the legendary ancient dish Varenyky with cheese – try it, it's so easy!!
How to serve Varenyky
Serve Varenyky hot with butter, fermented milk products, mushroom gravy. Sweet dumplings go with jams and sour cream. Varenyky can be frozen for further boiling and reheating.
References
[1] "varenyky" in the Canadian Oxford Dictionary, Second Edition, Oxford University Press, 2004.
[2] Melʹnyčuk O. S., editor (1982–2012) , "варити", in Etymolohičnyj slovnyk ukrajinsʹkoji movy [Etymological Dictionary of the Ukrainian Language] (in Ukrainian), Kyjiv: Naukova Dumka
[3] Rudnycʹkyj, Jaroslav-Bohdan (1962–1972) , "вар", in Etymolohičnyj slovnyk ukrajinsʹkoji movy [Etymological Dictionary of the Ukrainian Language] (in Ukrainian), volume I, Winnipeg: Ukrainian Free Academy of Sciences, page 313
Varenyky with cheese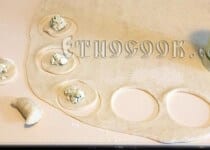 pour the gently heated milk into the flour, then the dough will be softer
if You want to roll out the dough very thin then take milk very cold
when You leave the dough for 20 min.,  cover it with a napkin to avoid drying
post-177
Prep Time:

60 minutes

Cook time:

30 minutes

Yield:

10 servings
Nutrition facts:
Calories
:
198 kcal/100g
;
Fat
:
1,0 grams
;
Known since
:
ancient times
;
Ingredients of the Ukrainian Dumplings Varenyky Recipe
Mark the ingredients if you don't have some of them and press "Save to Product List" button.
If want to know more information about the ingredient and see recipes where it is used then just click on it.
Read more about this ingredient
Save to Products List
save it!
Ingredients are successfully added to Your Product List.
Save it
or
continue reading
. You can edit and save it any moment in the left sidebar or in the top menu.
Instructions:
1. Sift flour, add cold or lightly heated milk, 3 eggs, melted butter, salt and knead the elastic dough. Put it for 20 min. to stand, cover it with a napkin to avoid drying.
2. For the filling take cheese, add 2 eggs, cut herbs, salt and mix thoroughly.
3.Roll out the dough thin of 1-2 mm, make with glass rounds, put the filling by a small spoon in the middle of the rounds and press the edges. Varenyk has the form of a crescent.
4. Varenyky are boiled in small portions (500 g.) in a big amount of hot salted water (3-4 litres). When the water is boiling, reduce the heat to low, put varenyky, boil for 1-2 minutes., and remove with a slotted spoon into a deep bowl, add butter, sour cream, mushroom gravy, greens.
Varenyky: step-by-step video recipe