Varenyky, Ukrainian Dumplings with filling are famous all over the world and known since ancient times. In traditional Ukrainian cuisine Varenyky was one of the most popular dish in Kyiv Rus. Varenyky filled with stewed sauerkraut is a very tasty light vegetable dish known all over the world.
The word "Pyrogy" (Pierogy, Pierogi) is the ancient Slavonic word "pirog'" that is – formed from the word "pir'" ("feast") with the suffix -og' or from the word "руго" ("wheat"), the ancient slavic word under the influence of the word "pir'" ("feast"). The word "Varenyky" is from the word "varyty" ("to boil").
Pyrogy (Pyrohy) or Varenyky is one of the 12 sacred dishes on traditional Christmas dinner that were formed in 8-9 centuries  before the adoption of Christianity and were then inherited in Medieval Ukrainian cuisine.
Ukrainian traditional ethnic dish Varenyky can be with different fillings, vegetables, meat, cheese, berries, poppy seeds. There was no potato in Ukraine until it was brought from South America in XVI century, so varenyky with potato filling are not the ancient variant of dish. One of the most popular fillings of Ukrainian dumplings in was fresh cottage cheese and dill. See also traditional Ukrainian recipes from the the cooking blog of ethnic Slavic cuisine Etnocook: Varenyky (Pyrohy), Varenyky with cheese and vegetables filling (steamed).
The dough for Varenyky can be made of different types of flour. The whole-wheat flour contains all of the grain (bran, germ, and endosperm), it contains vitamins, minerals (selenium), protein, calcium, iron, fiber. Whole-grain wheat flour is very nutritious and mixed with the white flower makes a perfect dough for Varenyky.
Varenyky is so important Ukrainian dish that there are monuments to them in Ukraine and all over the world in other places where Ukrainian lives.
In Ukraine was a tradition that the first dish in ancient times that mother ate after childbirth was Varenyky and people who cooked them wished her to have a lot of children and said "Be always full like varenyk".
Pyrohy with sour cabbage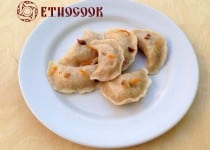 a dough can need additional flour or water until it is elastic and doesn't stick to hands
grinded carrots can be used with onions for filling and for serving
green onions can be used to taste with dill and parsley
post-1388
Prep Time:

01h 30min

Cook time:

20 minutes

Yield:

5 portions
Nutrition facts:
Calories
:
180 kcal/100g
;
Fat
:
2 grams
;
Known since
:
ancient times
;
Ingredients of the Ukrainian Varenyky with sauerkraut filling
Mark the ingredients if you don't have some of them and press "Save to Product List" button.
If want to know more information about the ingredient and see recipes where it is used then just click on it.
Read more about this ingredient
Save to Products List
save it!
Ingredients are successfully added to Your Product List.
Save it
or
continue reading
. You can edit and save it any moment in the left sidebar or in the top menu.
Instructions:
1. Prepare all ingredients for the recipe of Ukrainian dumplings with sauerkraut filling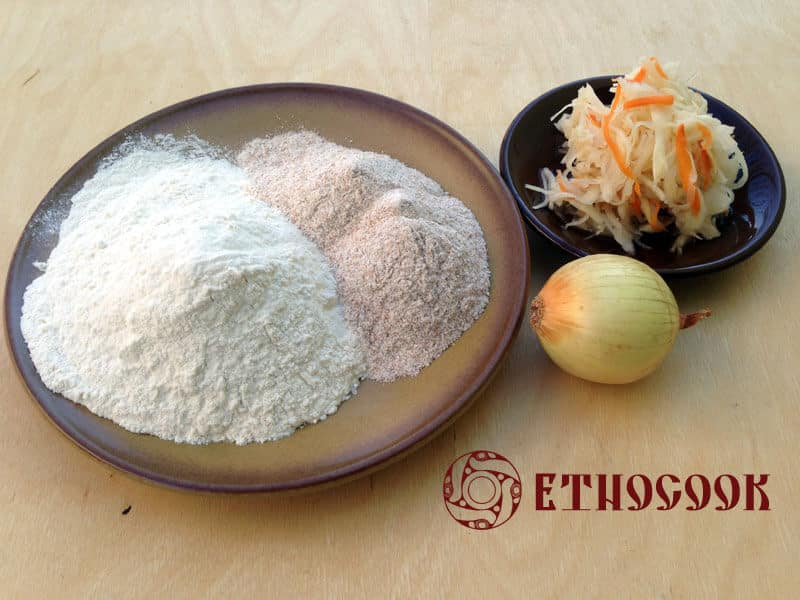 Prepare all ingredients for the Ukrainian traditional dish Varenyky (Pyrohy) with sauerkraut (fermented cabbage, sour cabbage).
2. Prepare liquid for the dough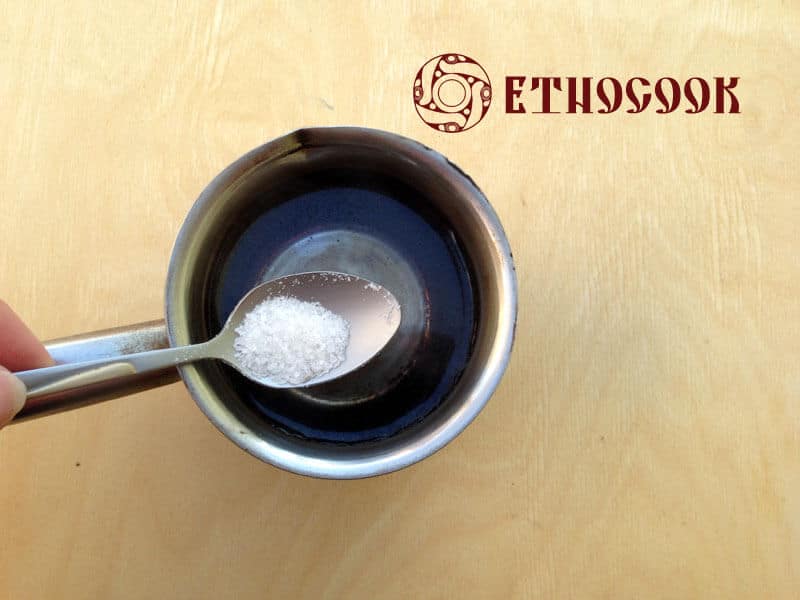 To a small amount of warm water (3 tablespoons) add salt and sugar and mix.
3. How to make the dough for dumplings (Ukrainian Varenyky)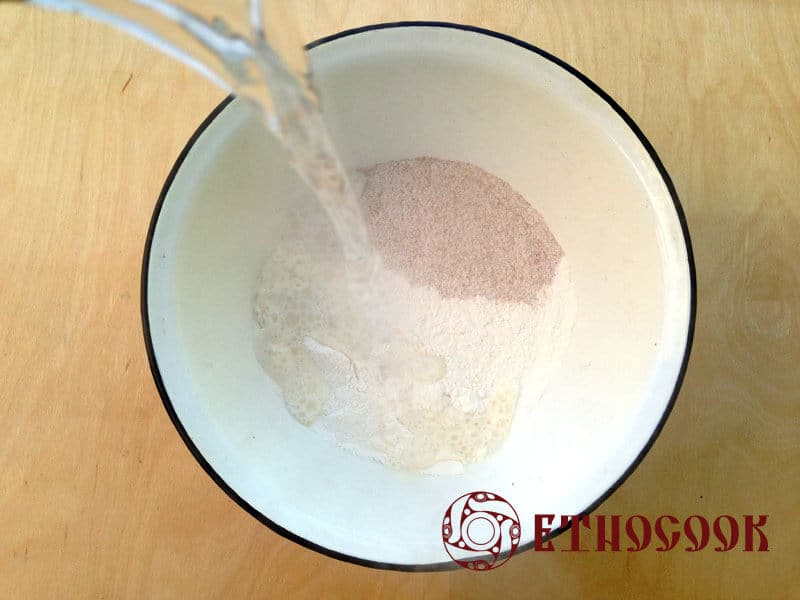 Sift flour, add water, oil, water with salt and sugar and knead the elastic dough. Put it for 20 min. to stand, cover it with napkin to avoid drying.
4. Onions for filling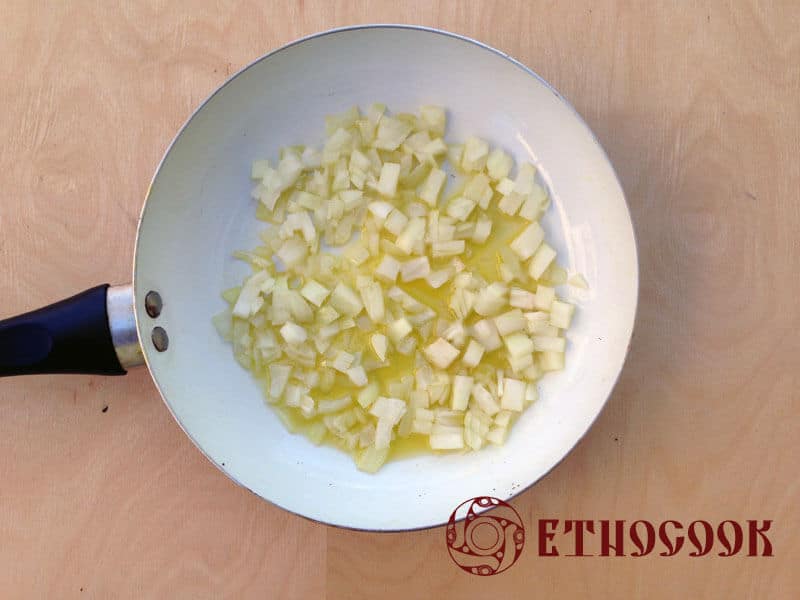 For the filling cut onion in small pieces and fry with oil until lightly brown.
5. Cook the filling for Ukrainian traditional dumplings with sour cabbage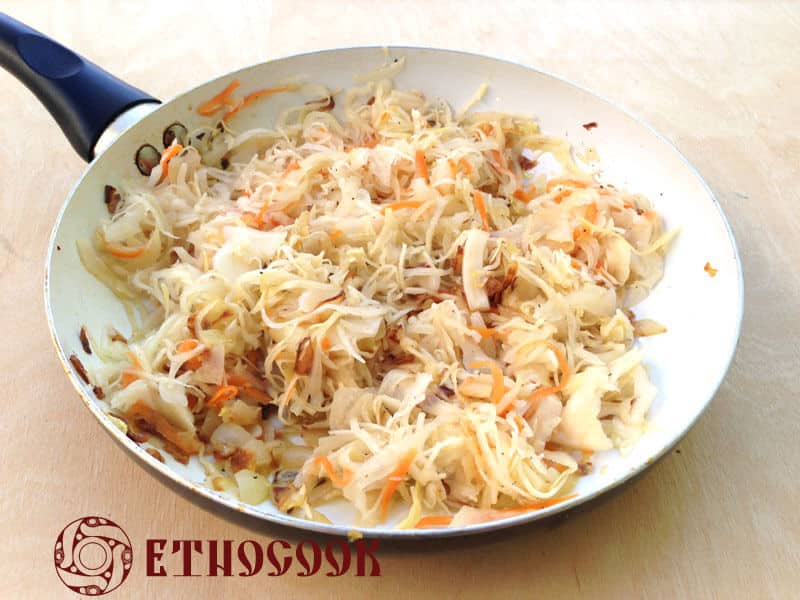 Add sauerkraut to onion, mix, cover and stew at the low temperature for 15 min.
6. Dough for wrappers without using special forms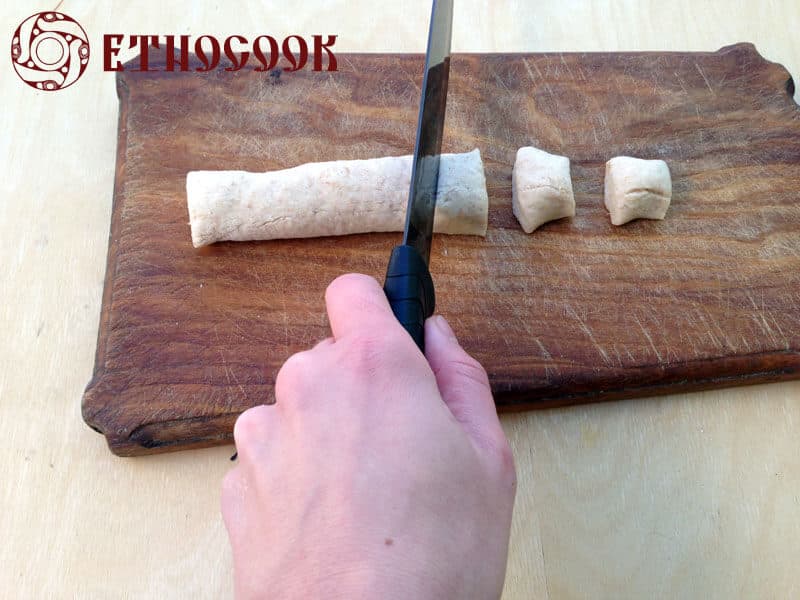 Roll out the dough in long round form (looks like a tube) with diameter 1,5-2 sm. and cut it into pieces with a width of ~2 sm.
7. Put the filling in homemade dumpling wrappers (handmade)
Make by hands round forms thin of 1-2 mm, put the filling by a small spoon in the middle of the  rounds and press the edges. Varenyk (pyrih) has the form of a crescent.
8. Cook and serve Ukrainian ethnic dumplings
Varenyky are boiled in small portions (10-15 dumplings) in a big amount of hot salted water (3-4 tbsp. of salt for 3 l of water). When the water is boiling, reduce the heat to low, put varenyky, boil for 1-2 minutes, and remove with a slotted spoon into a deep bowl.
Serve Ukrainian Varenyky warm, add onion fried with oil until golden brown, to taste butter, sour cream, dill, parsley. Ukrainian Varenyky taste very good with Mushroom gravy and Chicken hearts stewed in sour cream sauce