Varenyky, Ukrainian Dumplings with filling are famous all over the world and known since anient times. In traditional cuisine Varenyky was one of the most popular dish in Kyiv Rus.
The word "Pyrogy" is the ancient Slavonic word "pirog'" that is – formed from the word "pir'" ("feast") with the suffix -og' or from the word "руго" ("wheat"), the ancient slavic word "pyro" under the influence of the word "pir'" ("feast"). The word "Varenyky" is from the word "varyty" ("to boil")
Pyrogy or Varenyky is one of the 12 sacred dishes on traditional Christmas dinner that were formed in 8-9 centuries  before the adoption of Christianity and were then inherited in Medieval Ukrainian cuisine.
Dumplings are so important among Ukrainian dishes that are marked  by the monuments in Ukraine and other places where Ukrainian lives.
In Ukraine for centuries was the tradition that the first dish that mother eat after childbirth was varenyky and people who made them wished her to have a lot of children and said "Be always full like varenyk"
Cheese-filled varenyky from sour dough cooked on steam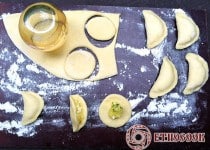 if you've never made Ukrainian dumplings, I advise You to see my video with the step-by-step instruction how to make Varenyky on YouTube, where I have told in details about the process
chicken eggs can be replaced by quail eggs, the rate of 1: 2 or do not use eggs
instead of milk if necessary use water
homemade dough starter can be replaced by baking yeast used according to instructions
instead of butter can be used vegetable oil
if You don't have steamer and conditions to prepare steamed varenyky, dumplings can be cooked 3-4 minutes in salted boiling water
Making dumplings is a complex process that requires skills, not many people can cook dumplings for the first time
post-1073
Prep Time:

02h 00min

Cook time:

10 minutes

Yield:

5 servings
Nutrition facts:
Calories
:
110 kcal/100g
;
Fat
:
5g/100 grams
;
Known since
:
Kyiv Rus
;
Ingredients of the Varenyky with cheese and vegetables filling (steamed)
Mark the ingredients if you don't have some of them and press "Save to Product List" button.
If want to know more information about the ingredient and see recipes where it is used then just click on it.
Read more about this ingredient
Save to Products List
save it!
Ingredients are successfully added to Your Product List.
Save it
or
continue reading
. You can edit and save it any moment in the left sidebar or in the top menu.
Instructions:
1. Prepare all ingredients for the recipe of Ukrainian steamed dumplings' dough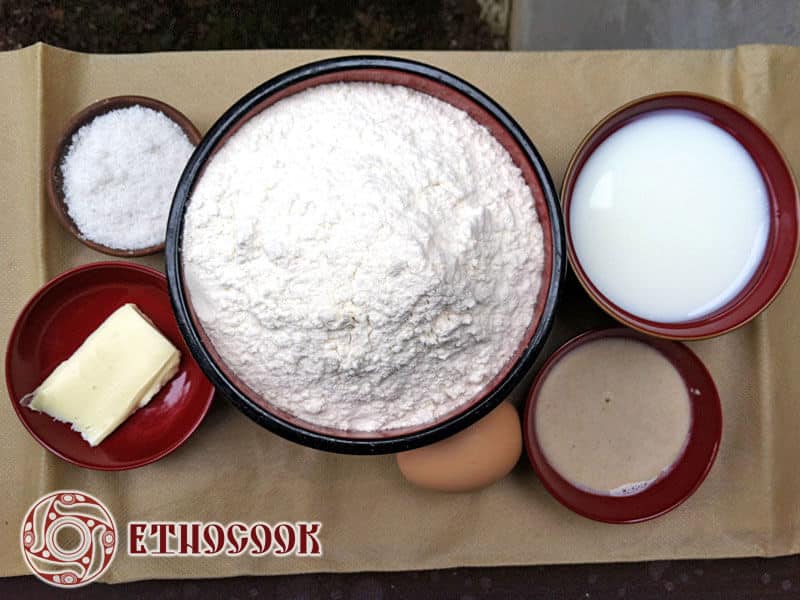 Prepare all ingredients for a dough. Make sure to take the exact amount of flour
Prepare all ingredients for the filling
Sift the flour, pour small portions of sour dough starter and slightly heated (~ 35 ° C) milk. Additionally add egg, salt, sugar, mix thoroughly.
Knead elastic dough, if necessary, add more flour or milk (water). Cover the dough with a napkin or towel and put in a warm place (25-30 ° C), to grown up for ~60 min.
Sour dough for Varenyky is ready.
6. Cook potatoes for dumplings' filling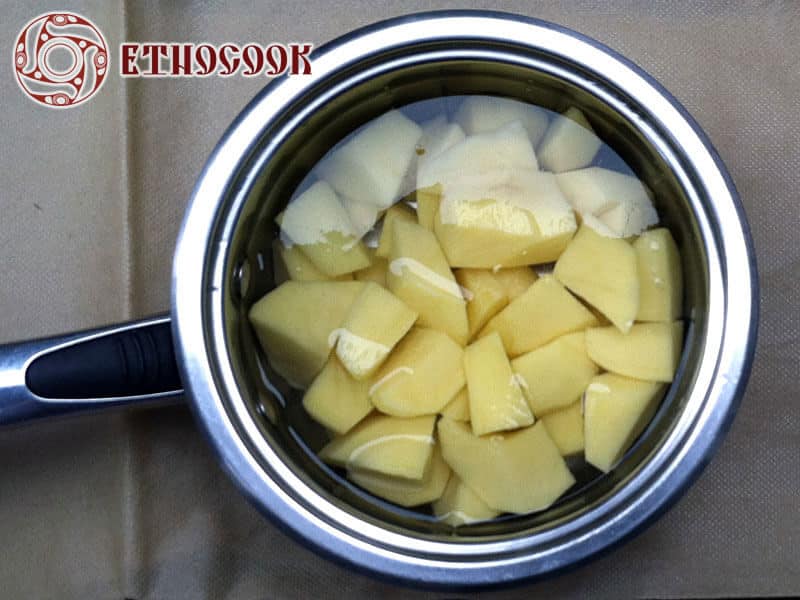 Wash and clean potatoes, cut, boil and cook on low heat until they become tender (~20 min).
7. Prepare potatoes and cheese for dumplings' filling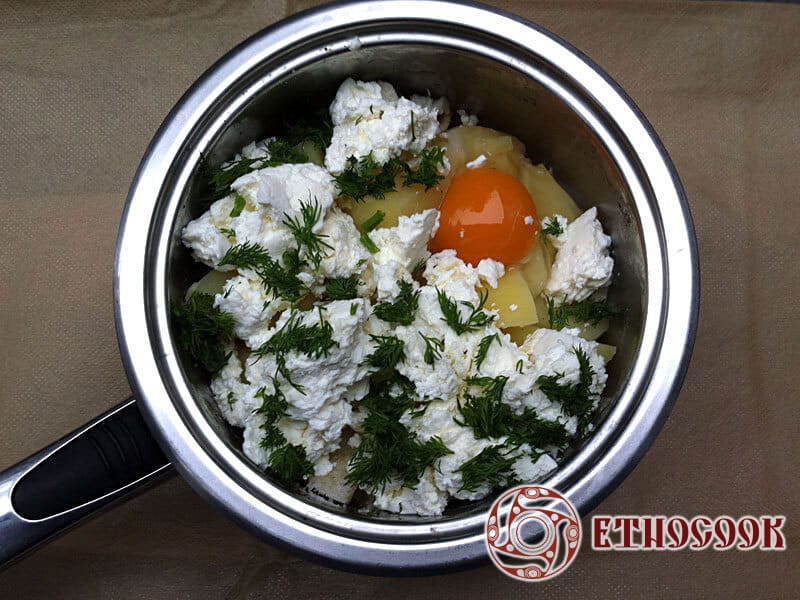 To cooked potatoes add cottage cheese, egg (optional), chopped parsley, dill, salt and pepper to taste.
8. Make the filling with potatoes and cheese for dumplings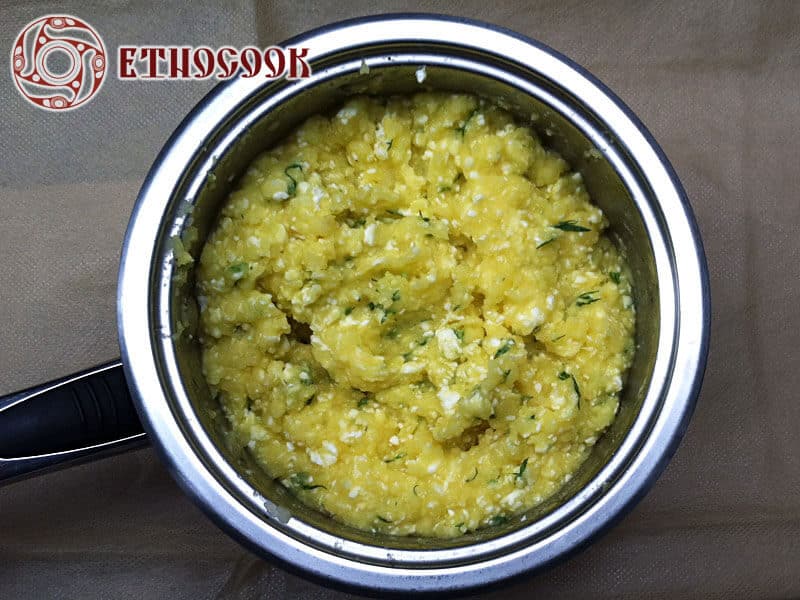 Make mashed potatoes and mix ingredients into a homogeneous mass.
9. Cabbage, carrots and dill for filling (optional)

Cabbage cut into small cubes, cut carrots and dill.
Put vegetables (cabbage, carrots, dill) in a deep frying pan, add oil.
Steam on low heat until vegetables are softened, add to the potatoes.
11.Put the filling in homemade dumpling wrappers (handmade)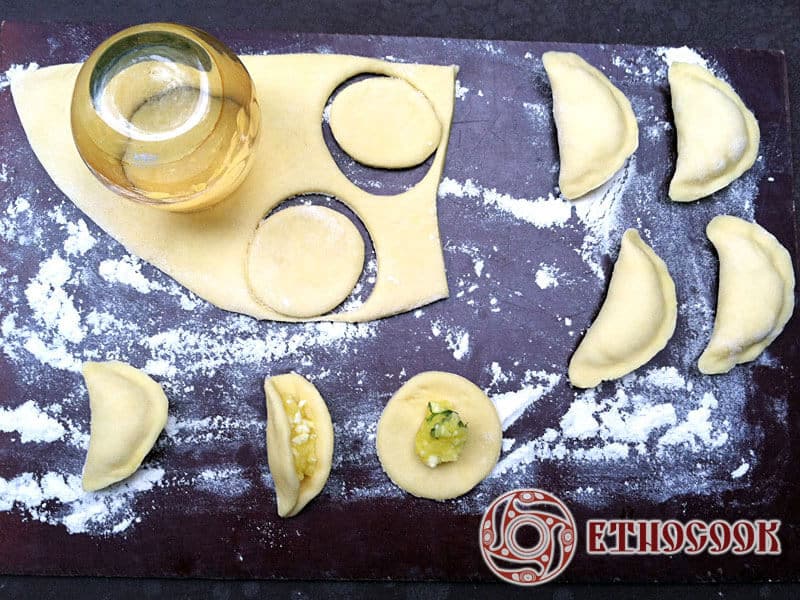 Dough roll to thickness of 3-5 mm., make with glass rounds, put the stuffing in the center and press the edges of every round
Dumplings put on the floured surface, and leave in a warm place to rise for 30-60 minutes. Prepare a steamer.
14. Cook dumplings in a steamer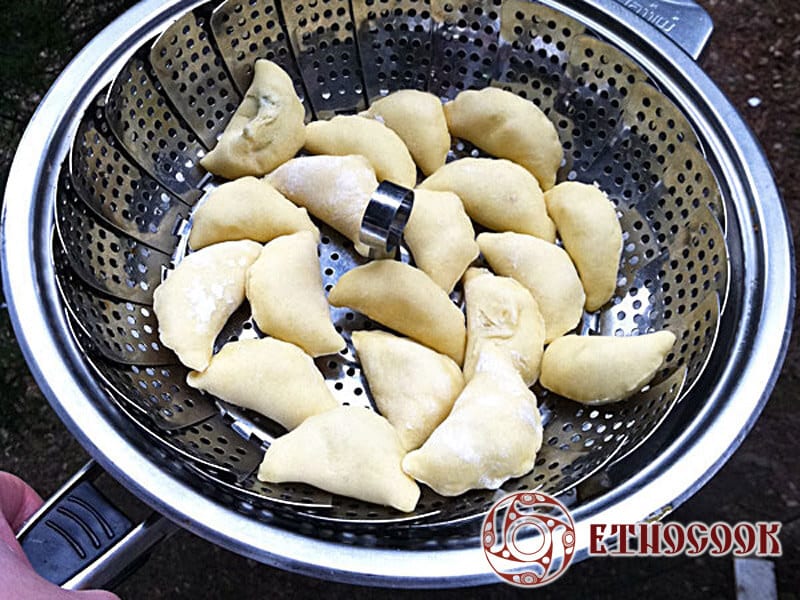 Cook dumplings Varenyky in a steamer, put small portions.
15. Cook pork fat for pork rinds (optional)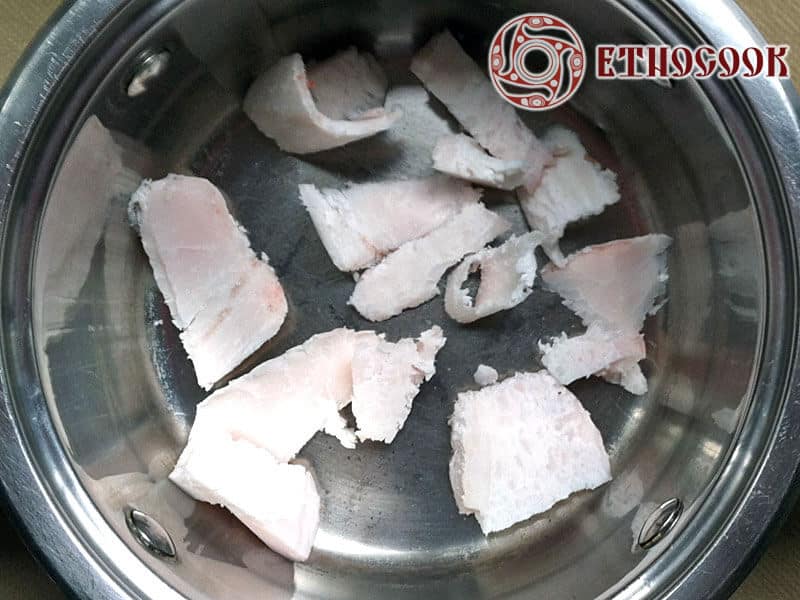 Optionally fry at low temperature cut pieces of pork fat (salo).
16. Serve the traditional Ukrainian dumplings Varenyky with butter, pork rinds and green dill

Serve cooked Ukrainian dumplings hot. Ready-made Varenyky pour with oil or melted butter, add chopped dill and onion, to taste.
17. Add some sour cream to taste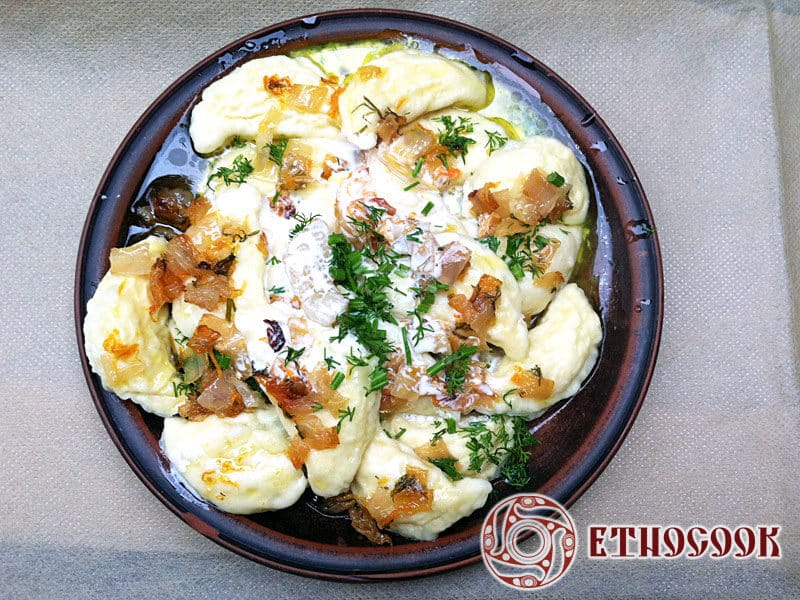 Additionally add pork fat (salo), and the sour cream (optional).