What is the rye bread?
Ethnic black bread in Ukraine
"Rye bread is wheat Kolach's grandfather." – Ukrainian proverb
Rye bread is a traditional Ukrainian leavened sourdough bread made of rye flour. It is dark in color and called Black Bread in Ukraine. Traditionally, it is baked from the sourdough as rye has a huge activity of wild yeasts and rises quickly,  sometimes with adding wheat flour. The whole rye dough is practically gluten-free, with a fantastic chewable dense texture.
The history of baking rye bread in Ukraine
The Ukrainian word rye comes from Proto-Slavic * žito (ukr.zhyto, "bread at the root", "grain"), related to Prussian. geitan ("bread"), Middle High German kīt and ancient English. cīdh ("sprout"). In the Proto-Slavic language, rye was called the word * rъžь, from which the names of cereals are formed in many Slavic languages (Bulgarian ръж, Serbian раж / raž, Slovak raž, Slovenian ŕž), Ukrainian dialect words rozh , rhyna, yrzhyshche ("rye stubble"), as well as the common word "surzhyk" (means mistakes in words from mixed Ukrainian and Russian languages; originally – mixed crops of rye with other cereals). It is considered to be derived from Proto-Indo-European * rughis.
"Rye bread is our father, buckwheat porridge is our mother." – Ukrainian proverb
Rye was widely cultivated in territories with cold climate and severe seasonal conditions. Actually, Ukrainians hadn't been using the rye crops as a food until 1500-1800 BC. In fact, Ukraine had so rich lands that they used wheat flour as a food and considered rye to be a weed practically till the Middle Ages.
Besides, as the wheat Ukrainian bread Korovai meant prosperity, and was connected with the bread and salt hospitality tradition of meeting guests, the rye bread usually was connected to poverty and people who lived below poverty line.
Ukrainian black bread nutrition facts
The Ukrainian rye bread considers being the most healthy among baked staple food, with fewer calories, low glycemic index (have less of an impact on blood sugar), and an amazing flavor. Additionally, it is rich in dietary fiber, iron, magnesium, calcium, vitamin B6. By the way, due to the huge amount of fiber gastric motility increases, toxins are excreted, and immunity is increased.
Best Traditional Ukrainian Black Bread Recipe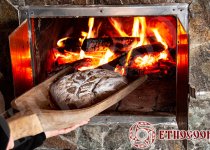 if needed honey is replaced by sugar
the rye flour often needs more water
the dough will be very sticky, use wet or oiled hands during forming a loaf
the loaf before baking can be additionally decorated with pumpkin and sunflower seeds, flour, and flaxseeds
post-2653
Prep Time:

12h 00min

Cook time:

60 minutes

Yield:

a loaf 600 g
Nutrition facts:
Calories
:
230 kcal/100g
;
Fat
:
3.3 grams
;
Known since
:
1500-1800 BC
;
Ingredients of the Best Traditional Ukrainian Black Bread Recipe
Mark the ingredients if you don't have some of them and press "Save to Product List" button.
If want to know more information about the ingredient and see recipes where it is used then just click on it.
Read more about this ingredient
Save to Products List
save it!
Ingredients are successfully added to Your Product List.
Save it
or
continue reading
. You can edit and save it any moment in the left sidebar or in the top menu.
Instructions:
How to make an ethnic Ukrainian black rye bread
1. Prepare all ingredients for the Ukrainian black rye bread
Measure all foods and utensils that are needed to make rye bread. Sift the flour twice. Etnocook recommends attentively planning the cooking time and having a little bit more ingredients just in case.
2. Mix the flour for black bread with the sourdough starter
In a deep bowl combine warm water with honey, add half of the rye flour and sourdough starter.
Cover with a linen napkin and put in a warm place for an hour to rise.
3. Forming the loaf of the sourdough Ukrainian rye bread
Add the rest of the rye flour, oil, salt and seeds (optional) to the raised mixture and form the loaf of the rye bread. Keep in mind that rye bread doesn't contain a lot of gluten, so Etnocook reminds you that no kneading is needed, it will be useless. Put the formed dough on the greased form, cover and leave it to rise in a warm place for the additional 10 hours (overnight).
4. Bake a loaf of rye bread
Preheat the oven to 200 C and bake the bread near 1 hour, check when it is nice golden brown color.
After baking don't cut it immediately, wait until it cools down.
Notice, that the rye bread loaf will stay moist and soft after baking, keep it for two days or a week in a refrigerator.
With what dishes rye bread is eaten
Actually, tastes differ, and the slice of rye bread can be eaten either with the Ukrainian red beet soup Borsch or with jam. Usually, it goes with salty dishes and is great alone, with a piece of meat or fat, smoked or salted fish, greens.
Black Bread and Salo combination
Rye Bread is truly a glorious choice to eat with a thin slice of Ukrainian pork fat Salo. The best thing that can be added is chopped green onion. Such traditional Ukrainian sandwich is well known and appreciated for its amazing spicy taste and high nutrition profile after which you'll feel full for a long time.
So, the Ukrainian black bread is very healthy, high in nutrient profile and low in gluten bread extremely easy to make from scratch.