Mushrooms were very famous a lot of centuries ago and they were gathered in deep forests in ancient times by Slavic people. In traditional Ukrainian recipes different types of mushrooms are widely used in cooking various ethnic dishes, especially delicious borshch and soups, main courses and side dishes, gravies and sauces.
Chanterelle Soup with Сheese dumplings (Halushky) from Etnocook is flavorful, healthy and tasty.  This ethnic recipe has simple ingredients and takes a little time to cook.
Mushroom Soup with Dumplings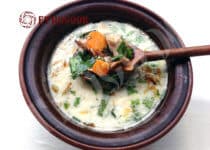 keep in mind that approximately the third part of water during cooking will boil away
skin of young carrots can be scraped with a hard brush, old carrots need to be peeled
peas can be replaced by beans, if they are dried then soak them in cold water for ah hour
the recipe of dumplings Halushky by Etnocook
post-1765
Prep Time:

60 minutes

Cook time:

30 minutes

Yield:

4 servings
Nutrition facts:
Calories
:
42 kcal/100g
;
Fat
:
2 grams
;
Known since
:
Middle Ages
;
Ingredients of the Chanterelle Soup with Сheese dumplings (Halushky)
Mark the ingredients if you don't have some of them and press "Save to Product List" button.
If want to know more information about the ingredient and see recipes where it is used then just click on it.
Read more about this ingredient
Save to Products List
save it!
Ingredients are successfully added to Your Product List.
Save it
or
continue reading
. You can edit and save it any moment in the left sidebar or in the top menu.
Instructions:
1. Prepare all the ingredients
Prepare all the ingredients for the Ukrainian forest mushroom soup with dumplings by Etnocook's recipe. Wash and peel vegetables.
2. Prepare mushrooms
Properly rinse mushrooms in cold water. Soak Chanterelle in a deep bowl in lightly salted cold water (1 tablespoon salt for 2 liters of water) for 5 minutes. Drain the water, and clean them with sharp knife. Add fresh cold water, bring to boiling, reduce the heat and cook mushrooms 30 min.
3. Prepare vegetables and greenery
Slice carrot, parsnip, chop greenery
4. Fry onions
Chop onions and fry ("sauté") very quickly on a high heat in frying pan with vegetable oil to golden colour.
5. Prepare boiled mushrooms
Take the mushrooms from the pot, rinse the broth through a gauze, thoroughly wash the pan.
6. Fry Chanterelles
Add Chanterelles to onions, mix and fry on the low heat ~10 min.
7. Add vegetables to the broth
Add peas, carrots, parsnip, bay leaf and peppercorns to the broth, bring to boil, reduce the heat and cook for 15 min. under the closed lid.
8. Add mushrooms
Put cooked forest mushrooms in the pot with vegetables
9. Cook and add dumplings to the soup
Put in the soup ready cooked Ukrainian dumplings Halushky by the ethnic recipe from Etnocook.
10. Add greenery
Put the finally chopped dill, parsley, sorrel, green onion and salt in soup, remove bay leaf and peppercorns, mix the ingredients.
11. Serve the soup
Serve the Ukrainian dish Chanterelle Soup with Сheese dumplings (Halushky) hot, additionally add sour cream to taste