Dumplings (Halushky) is a very ancient traditional everyday Ukrainian dish. During the Kyiv Rus (Kievan Rus) this dish was as famous as the world wide known Borshch (Borshcht) and Varenyky (Pierogi, Pyrohy), the authentic recipes of which are made by Etnocook.
In this ethnic recipe from Etnocook were used very healthy ingredients such as whole-wheat flour and cottage cheese. As it is well known, the whole-wheat flour contains all of the grain (bran, germ, and endosperm), vitamins, minerals (selenium), protein, calcium, iron, fiber. Whole-grain wheat flour is very nutritious and mixed with the white flower makes a perfect dough for Dumplings. Ukrainian homemade cottage cheese is a great source of calcium and protein.
Ivan Kotliarevsky (1769-1838), Ukrainian poet and playwright mentioned the famous Ukrainian ethnic dish Halushky in his poem "Eneida":
"They spent their time in eating cates,
Sweetmeats and all confections rare;
White wheaten dumplings filled their plates
And puffy rolls with caviare;
Garlic and borsch and sauerkraut,
Mushrooms and berries joined the rout,
Hard eggs with tasty kvass were here,
And a delicious omelet
By foreign chefs one's zest to whet,
And all this food they drowned in beer" Ivan Kotliarevsky
Ukrainian homemade dumplings are very easy to cook, and, of course, they are very tasty. Halushky can be made just of flour and water or with adding vegetables, eggs, cheese, mushrooms, meat, berries and served with butter, vegetable oil, sour cream, Mushroom gravy or Chicken hearts stewed in sour cream sauce
Ukrainian Cheese Halushky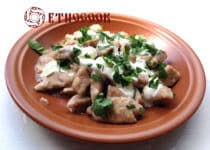 For a dough may be taken a little more water or flour, depending on the quality and consistency of the ingredients.
Quail eggs can be replaced by chicken in a 2: 1 ratio
When cooking don't cover the pan with a lid, to avoid overcooking
Ready dish can be be served with onions fried on vegetable oil to golden colour
Etnocook Mushroom Gravy Recipe (https://etnocook.com.ua/hrybna-pidlyva/)
post-1603
Prep Time:

40 minutes

Cook time:

20 minutes

Yield:

2 portions
Nutrition facts:
Calories
:
225 kcal/100g
;
Fat
:
3 grams
;
Known since
:
ancient times
;
Ingredients:
Mark the ingredients if you don't have some of them and press "Save to Product List" button.
If want to know more information about the ingredient and see recipes where it is used then just click on it.
cottage cheese -

300 g

A fresh cheese made from whole, part-skimmed or skimmed pasteurized cow's milk. Curds are a dairy product obtained by curdling (coagulating) milk with rennet or an edible acidic substance such as lemon juice or vinegar, and then draining off the liquid portion. The increased acidity causes the milk proteins (casein) to tangle into solid masses, or curds. The remaining liquid, which contains only whey proteins, is the whey. In cow's milk, 80% of the proteins are caseins. Milk that has been left to sour (raw milk alone or pasteurized milk with added lactic acid bacteria or yeast) will also naturally produce curds, and sour milk cheese is produced this way.

whole-wheat flour -

80 g

vegetable oil (sunflower oil) -

50 ml

water -

50 ml + 3 l for cooking

quail egg -

2

salt -

~4 g, to taste

Salt is a mineral substance composed primarily of sodium chloride (NaCl)

Salt is present in most foods, but in naturally occurring foodstuffs such as meats, vegetables and fruit, it is present in very small quantities. It is often added to processed foods to make their flavour more appealing and is also present at higher levels in preserved foods.

In many East Asian cultures, salt is not traditionally used as a condiment.In its place, condiments such as soy sauce, fish sauce and oyster sauce tend to have a high sodium content and fill a similar role to table salt in western cultures. They are most often used for cooking rather than as table condiments.

Table salt is made up of just under 40% sodium by weight, so a 6 g serving (1 teaspoon) contains about 2,300 mg of sodium.

Sodium serves a useful purpose in the human body: it helps nerves and muscles to function correctly, and it is one of the factors involved in the autoregulation of water content (fluid balance).[49] Most of the sodium in the Western diet comes from salt

Too much sodium is bad for health, and health organizations generally recommend that people reduce their dietary intake of salt. High salt intake is associated with a significantly greater risk of stroke and total cardiovascular disease in susceptible people. In adults and children with no acute illness, a decrease in the intake of sodium from the typical high levels reduces blood pressure and provides a health benefit, and a low salt diet results in an even greater improvement in blood pressure in those with hypertension than in those without. A reduction in salt intake of 5 g per day has been found to be associated with a 23% reduction in the rate of stroke and a 17% reduction in the rate of total cardiovascular disease. The World Health Organization recommends that all adults should consume less than 2,000 mg of sodium (5 g of salt) per day. A 2013 report from the Institute of Medicine states that there is insufficient evidence to show that there is any additional benefit in lowering sodium intake to less than 2,300 mg per day.

Sauce (to taste)
butter -

50 g

Butter is a dairy product made by churning fresh or fermented cream or milk. It is generally used as a spread and a condiment, as well as in cooking, such as baking, sauce making, and pan frying. Butter consists of butterfat, milk proteins and water.

Butter, unsalted
Nutritional value per 100 g (3.5 oz)
Energy 2,999 kJ (717 kcal)
Carbohydrates 0 g
Fat 81 g
– saturated 51 g
– monounsaturated 21 g
– polyunsaturated 3 g
Protein 1 g
Vitamin A equiv. 684 μg (86%)
Vitamin D 60 IU (10%)
Vitamin E 2.32 mg (15%)
Cholesterol 215 mg

green dill -

50 g

sour cream -

150 g, to taste

Sour cream is a dairy product obtained by fermenting a regular cream with certain kinds of lactic acid bacteria
Save to Products List
save it!
Ingredients are successfully added to Your Product List.
Save it
or
continue reading
. You can edit and save it any moment in the left sidebar or in the top menu.
Instructions:
1. Prepare the ingredients for Cheese Dumplings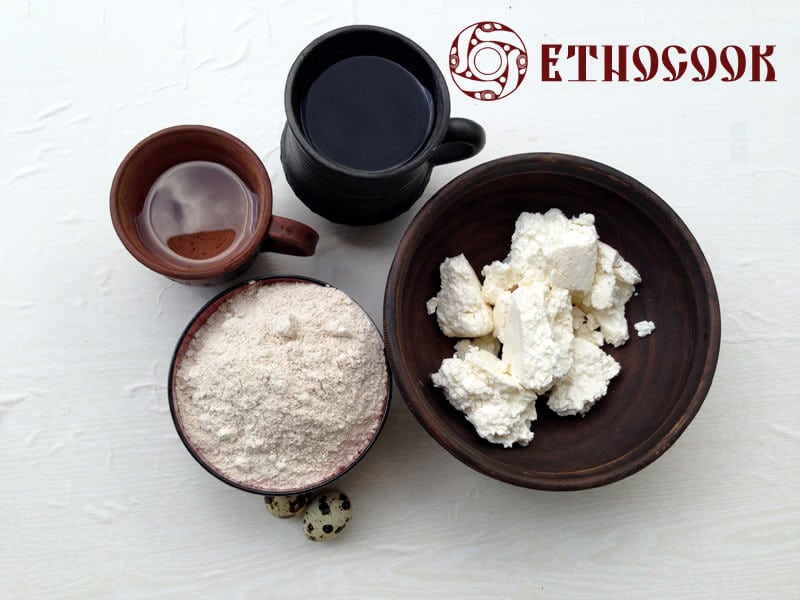 Prepare all the ingredients that are needed to cook delicious Ukrainian Dumplings Halushky with cottage cheese and whole-grain flour with the recipe from the traditional ethnic cuisine Etnocook.
2. Put ingredients in a deep bowl
In a deep bowl put cottage cheese, sifted flour, eggs, oil, salt, and add water in small portions.
3.Make the dough for Halushky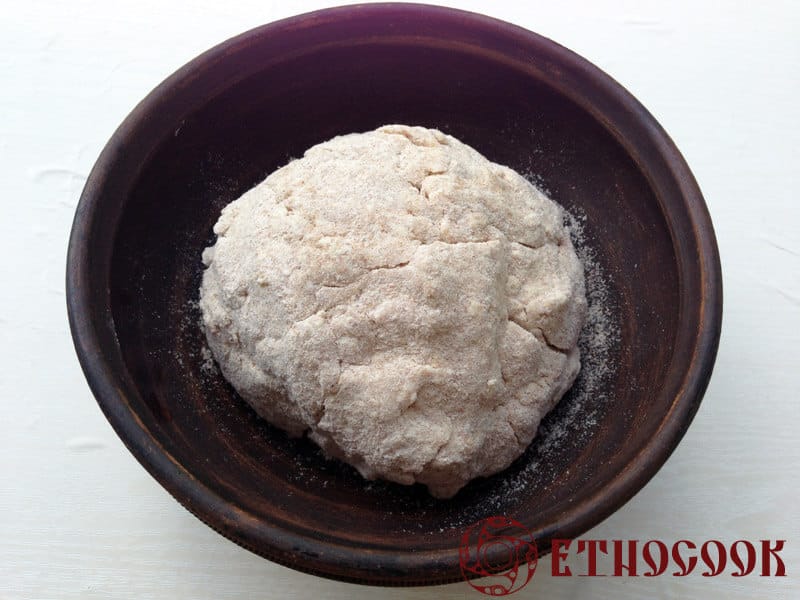 Make the elastic dough, adding flour if necessary (if the dough is too liquid) or water, if it is too tight.
4. Form dumplings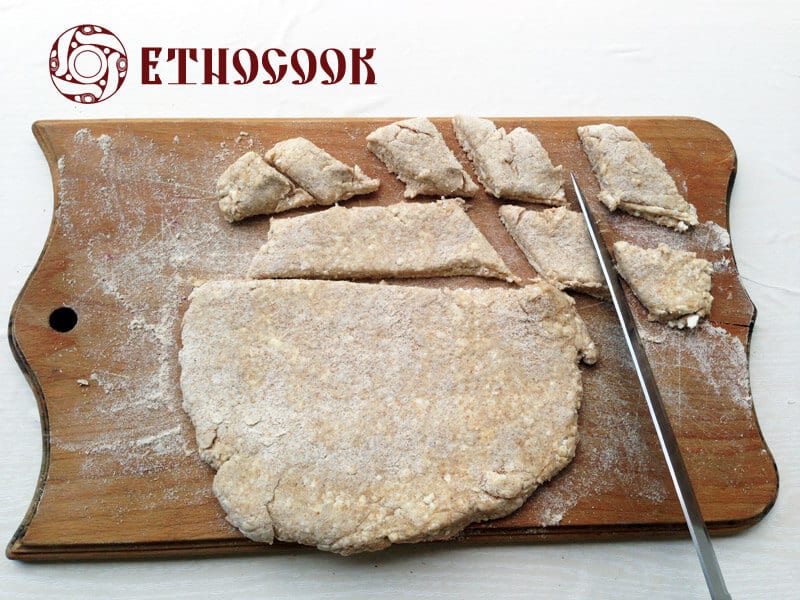 Put on the kitchen surface (desk or board) little amount of flour, roll out the dough thin of 1/2 cm, and form dumplings by knife, ~2X2 cm each.
5. Cook and serve dumplings
Cook the dumplings by small portions in a lot of boiling water over low heat for ~ 5-10 minutes. Put Halushky in a deep bowl, pour the onions fried in butter, add sour cream, greenery and serve hot.
Step-by-step gallery