Kutia (Kutya) is an old Slavic dish known since pre-historic times. It is the main of twelve dishes served for Sviata Vecheria (twelve-dish Christmas Eve supper) during Winter Holidays (Ukrainian Christmas).
Th ancient recipe of Kutia from the traditional ethnic cuisine Etnocook is very simple. The main ingredients are wheat grains (wheatberries), water, poppy seeds and honey. Often walnuts and raisins are added.
Kolyvo is a traditional dish like kutia, but without poppy seeds. It is served at remembrance services and tasted from one bowl by everyone present.
After Kutia all the other dishes are served, among them Borshch and Vushka with mushrooms, sauerkraut, or fish filling Varenyky, Pampuhy.
Sweet Ukrainian cereal dish of of wheat, honey, poppy seeds and nuts
before soaking, wheat can be dried in 100C oven for 1 hour, stirring time to time
pearl barley or other similar grain can be taken instead of wheat, but it will be not the traditional Ukrainian recipe
more or less honey or water can be added, to taste
honey can be replaced by sugar (1:2)
sometimes other kinds of nuts are added
post-1717
Prep Time:

05h 00min

Cook time:

60 minutes

Yield:

5 servings
Nutrition facts:
Calories
:
230 kcal/100g
;
Fat
:
6 grams
;
Known since
:
pre-historic times
;
Ingredients:
Mark the ingredients if you don't have some of them and press "Save to Product List" button.
If want to know more information about the ingredient and see recipes where it is used then just click on it.
Read more about this ingredient
Save to Products List
save it!
Ingredients are successfully added to Your Product List.
Save it
or
continue reading
. You can edit and save it any moment in the left sidebar or in the top menu.
Instructions:
1. Prepare all the ingredients for Ukrainian Kutia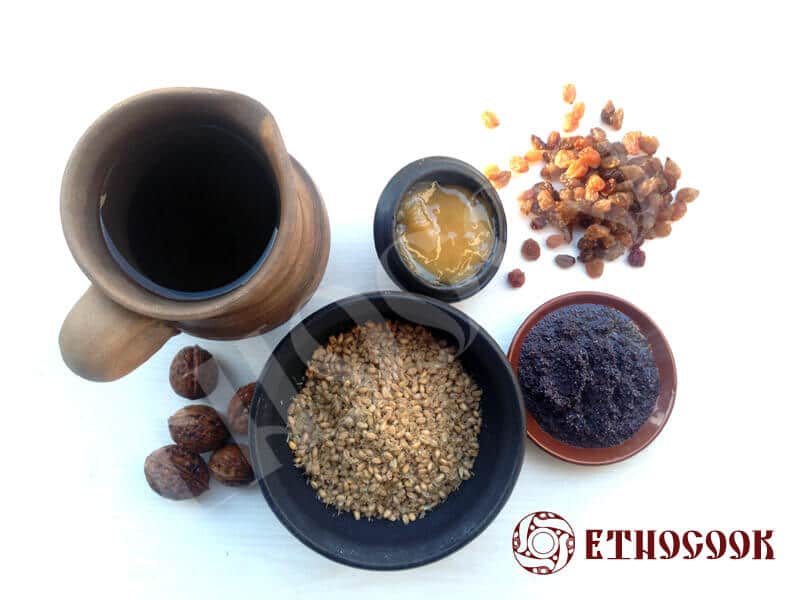 Clean and prepar the wheat grains, poppy seeds, raisins, walnuts
2. Cook the wheat grains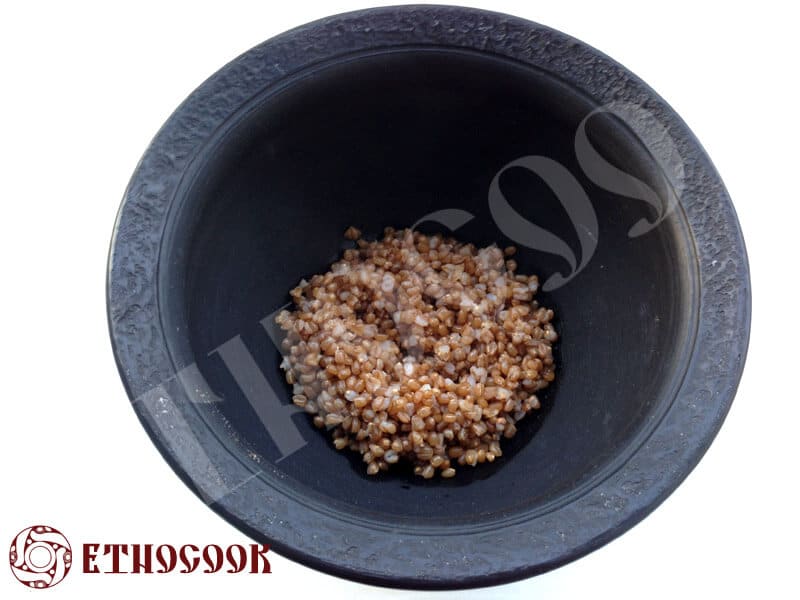 Сarefully wash wheat in cold water three times, soak in 1 liter spring or filtered water for 5 hours (or for the night). Drain water, add 2 liters of fresh water, add salt and 1 tspof sugar to taste, bring to a boil. Reduce the fire to a minimum and cook it under a closed cover until the grains become soft (~ 30-40 min.). If necessary, add warm water if it is very boiling up. After cooking, drain water, and put the finished wheat into a deep dish, in which ingredients for Kutia will be mixed.
3. Prepare poppy seeds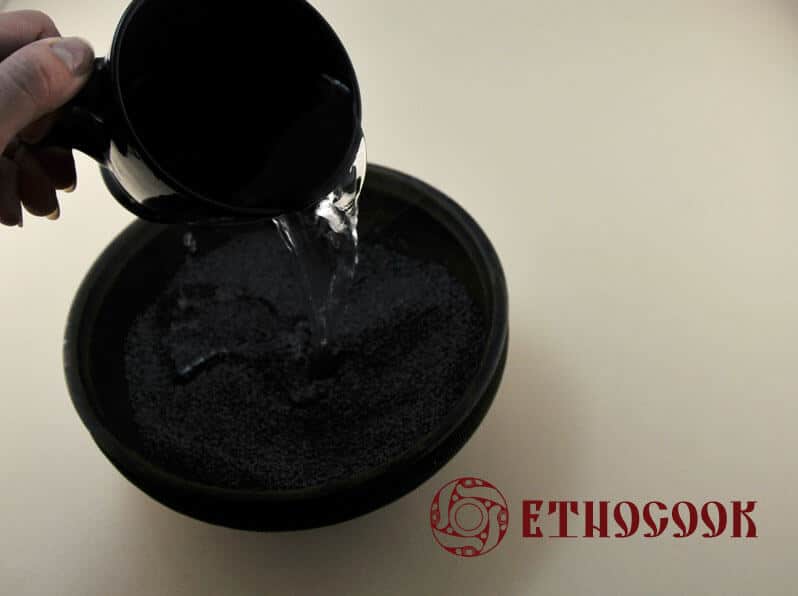 Add hot water to poppy seeds in a deep bowl and soak for 1 hour. Drain and strain through the gauze. Grind to a homogeneous whitish mass.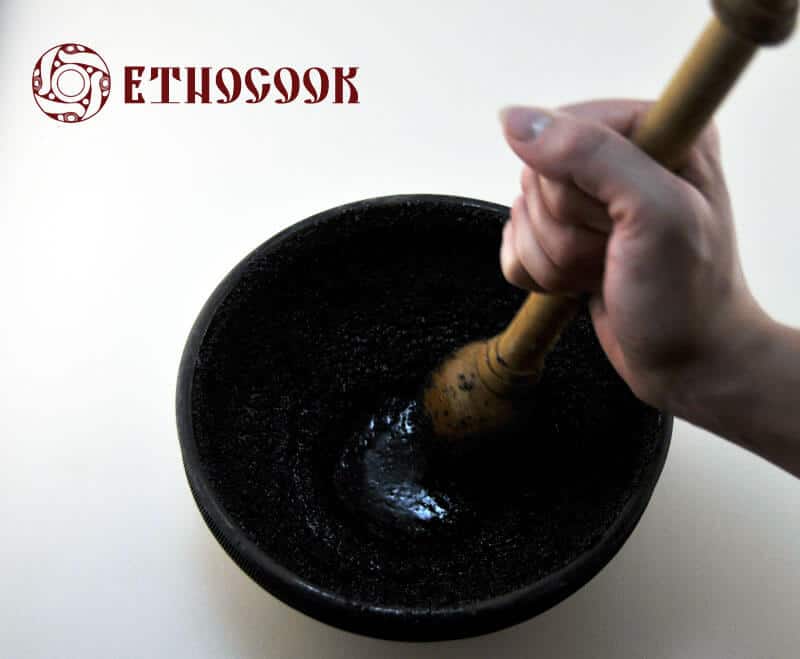 4. Add raisins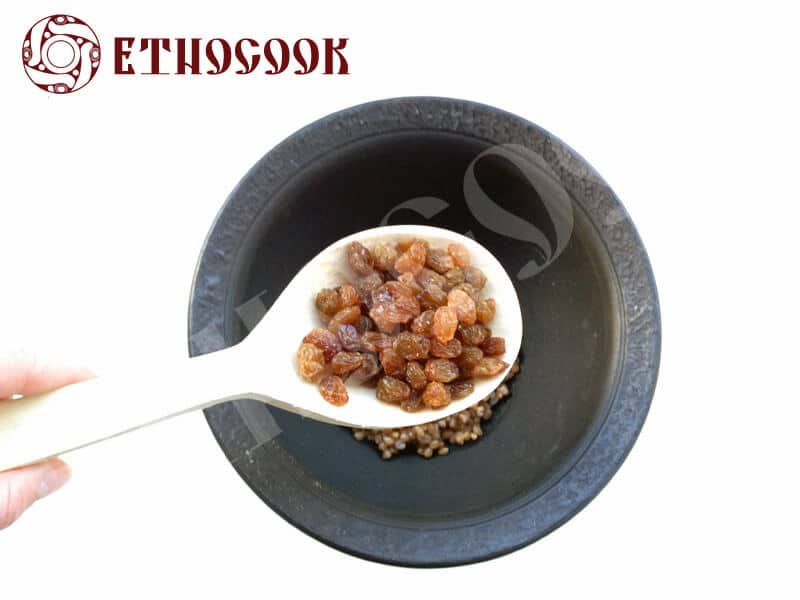 Add raisins to wheat in deep bowl and mix.

5. Add nuts and poppy seeds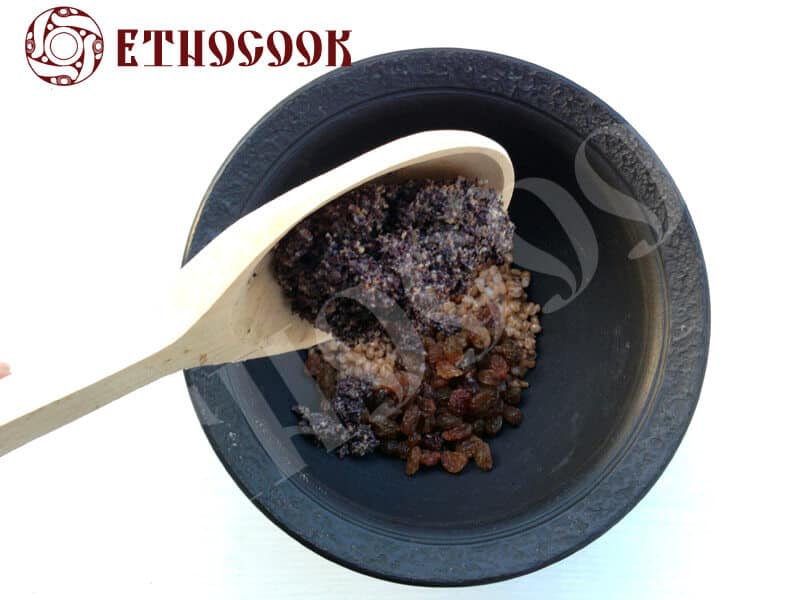 Finely cut nuts, mix with poppy seeds, add to other ingredients for Kutya.
6. Add honey
In a glass (150 ml.) of warm water (~ 40C) put honey and mix. Add to the other ingredients of Kutia.
Serve lightly warm Kutia for Sviata Vecheria (Sviatvechir) as the main dish. Actually, Kutia is the first out of twelve dishes served for Sviata Vecheria to be tasted.