Shpundra as Ukrainian ancient dish was very popular in Slavic cuisine. In traditional recipe from Etnocook it is made with beetroots and pork stewed in Beet Kvass.
In traditional cuisine it is served as Borshch and Soups dish with stewed beets in broth or like Main Course with meat and vegetables.
Shpundra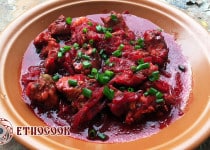 traditionally pork meat (pork belly bacon) is taken but the other kinds of meat are also good for Shpundra;
if there is such need, more Beet Kvass can be added during stewing;
the best vegetable oil for Shpundra is sunflower oil but any other oil is good or You can take the same amount of animal fat;
the preparation time for meat can be longer but put it into the refrigirator
post-697
Prep Time:

60 minutes

Cook time:

60 minutes

Yield:

2 hours
Nutrition facts:
Calories
:
100 kcal/100g
;
Fat
:
3g/100 grams
;
Known since
:
ancient times
;
Ingredients of the Shpundra
Mark the ingredients if you don't have some of them and press "Save to Product List" button.
If want to know more information about the ingredient and see recipes where it is used then just click on it.
Read more about this ingredient
Save to Products List
save it!
Ingredients are successfully added to Your Product List.
Save it
or
continue reading
. You can edit and save it any moment in the left sidebar or in the top menu.
Instructions:
1.
Meat keep under a stream of running cold water for 1 min., then cut into portions pieces, salt and pepper to taste, add the crushed garlic, chopped onions and fresh herbs, fold and leave for about 1 hour.
Prepare all the ingredients for the dishes of national Ukrainian cuisine Shpundra: clean and peel vegetables, chop herbs, onions and garlic.
2.
Beets are ground or rub on a coarse grater.
3.
In high pan heats oil or vegetable oil and put the meat pieces.
4.
Fry the meat pieces until golden brown
5.
Add to meat and beet sugar, fold two minutes, pour Beet Kvass and stew about 30 minutes.
6.
Shpundra is served hot as a first course like beet soup or as a main course. Add some chopped greenery and sour cream to taste.