Kvass is a traditional Slavic fermented beverage originating in Ukraine. It has been known since ancient times and was very popular among Ukrainians in Kyiv Rus (Kievan Rus). The first written mention about Kvass was the year 996 C.E. in an ancient book the "Primary Chronicle" ("The Tale of Bygone Years").
In the Ukrainian land Kvass was made with beets, fruits, flour, bread.
The ancient recipe for an extremely healthy and refreshing Ukrainian beverage Bread kvass (rye-wheat bread and sourdough starter) from the culinary site of the traditional ethnic cuisine Etnocook is very simple. In traditional Ukrainian cuisine it is made without commercial yeast. If needed the natural homemade sourdough starter is used. It is very important to use filtered spring water and kitchen tools from natural materials, best wooden.
Kvass is very refreshing beverage commonly made from rye bread. Ukrainian Kvass contains vitamin B12, vitamin B2, the mineral manganese, selenium, niacin, phosphorus.
Usually Kvass is a popular drink during hot summer days but traditionally it was widely used in the ethnic Ukrainian cuisine to prepare different dishes, usually in recipes of soups and stewed vegetables.
Ukrainian Bread Kvass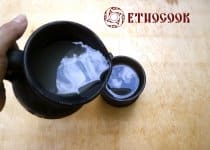 use filtered spring water and kitchen tools from natural materials
sugar (75 g) can be taken instead of honey
the leaven from the bottom of the pot can be used for re-preparation of kvass, for this purpose it is collected after the drain of a beverage into a separate glass jar, tightly closed and stored in the refrigerator for ~ 2 weeks
for this recipe, kvass is a very light color, for darker is taken bread baked up to a dark crust
instead of hops sourdough starter (100 g) or the simplest sourdough starter can be used commercial yeast, ~ 50 grams of fresh or ~ 2 tsp. dry
keep the ready kvass in the refrigerator no more than 3-4 days
a little more sugar or honey can be added, to taste
Kitchen tools and Cooking Utensils: knife, glass or enamel pot 3 liters (or wooden tub 3 liters), Cheesecloth , a wooden spoon, glass or clay pots with lid
post-1570
Prep Time:

3day 0 h 0 min

Cook time:

20 minutes

Yield:

3 l
Nutrition facts:
Calories
:
35 kcal/100g
;
Known since
:
Kyiv Rus
;
Ingredients:
Mark the ingredients if you don't have some of them and press "Save to Product List" button.
If want to know more information about the ingredient and see recipes where it is used then just click on it.
Read more about this ingredient
Save to Products List
save it!
Ingredients are successfully added to Your Product List.
Save it
or
continue reading
. You can edit and save it any moment in the left sidebar or in the top menu.
Instructions:
1.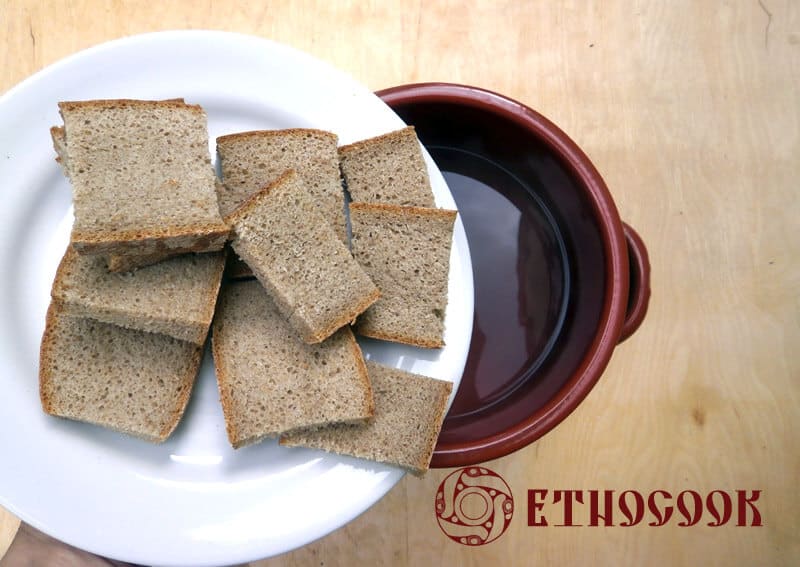 Add sliced bread to hot water (90 C), let it cool down, to a temperature of ~ 40C (water must be slightly warm)
2.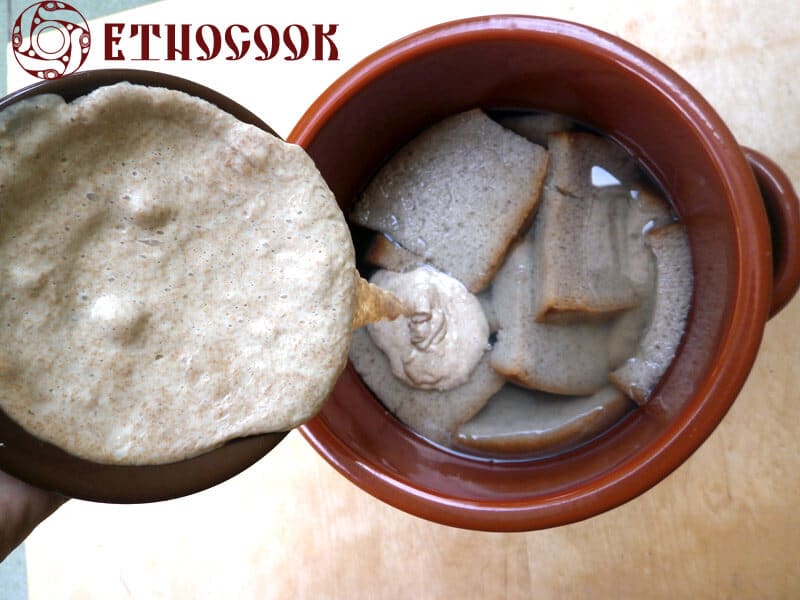 Add sourdough starter to warm water with bread
3. Mix bread with sourdough starter and water.

4.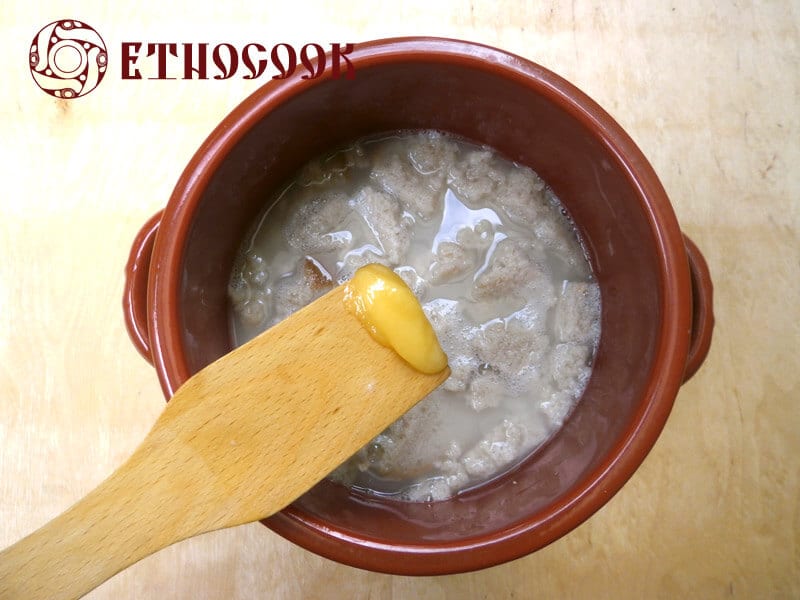 Add honey or sugar, carefully mix the ingredients.
5.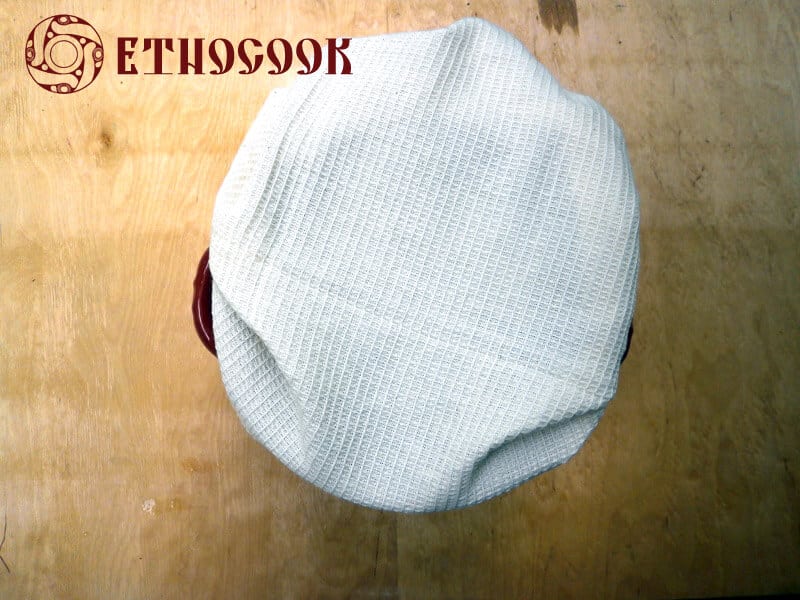 Cover the pan with a cheesecloth and put in a warm place (20-25 C) for ~ 2-3 days. Kvass can be ready a little earlier or later, depending on the conditions of the fermentation process.
6.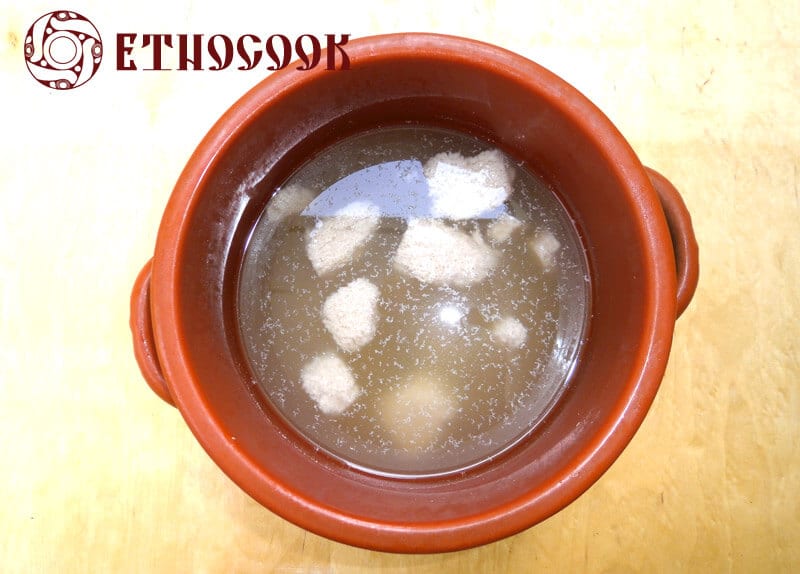 Ready kvass without stirring, filter through a cheesecloth to smaller glass or clay pots, add 4-5 raisins, cover with dense lid and store in a cold place (preferably in the refrigerator) for 4-5 days.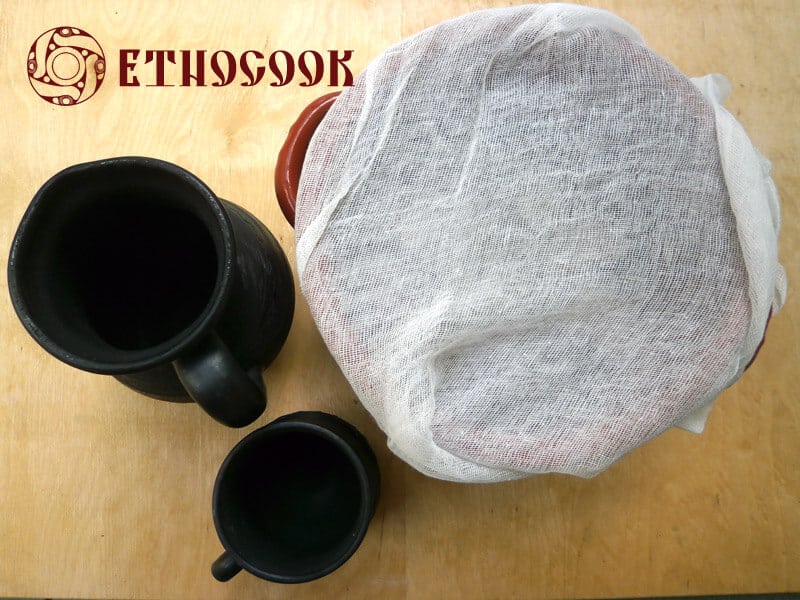 Ukrainian Bread Kvass has a delicate sweet sour-sweet taste, it is light and refreshing. When pouring it is sparkling. Drink cooled