As it is well known, pigs have been domesticated since ancient times as early as 13,000–12,700 BP. Etnocook reminds that in the Ukrainian lands pigs considered to be sacral animals. They were broadly cultivated and grown for meat, leather, bristly hairs and bones. Since Kyiv Rus (Kievan Rus) times (IX-XIII) there have been written evidences about their importance and there a lot of traditional recipes back from there. However to our days have come much more ancient Slavic tales with pigs as characters, and a lot of different wise proverbs.
Actually nowadays pig's meat is widely used in different Slavic cuisines. Stewed pig meat with beet roots centuries ago was cooked with the ancient recipe of Shpundra. Salo (pork fat) is very popular in the Ukrainian cuisine and is used salted, roasted or as fried pork lard (cracklings), for example, in Etnocook's recipe for Snap beans stewed in sour cream with pork rinds. You also won't be surprised that a roasted pork loin is a delicious nutritious meal and a wonderful decoration for the holiday table.
The Ukrainian ethnic recipe for a home-cooked juicy meat with aromatic herbs and spices from the Ukrainian traditional cuisine Etnocook is very easy and has a lot of useful information. This old recipe contains a modern step-by-step description, detailed explanations and helpful culinary tips from the traditional Etnocook ethnic cuisine.
The recipe of tendereous pork meat
pork loin is a cut of meat from a pig, created from the tissue along the dorsal side of the rib cage
Etnocook recommends to season a pork loin with spices and herbs at least 60 minutes before cooking to make for an explosive meat flavor, a juicy and crispy crust on the outside and a tender center.
pork is best cooked at an internal temperature of 145°F (~62°C) (Ukrainian cuisine Etnocook gives a piece of advice to use a digital cooking thermometer)
when ready give the meat a 3 min rest time
post-2137
Prep Time:

60 minutes

Cook time:

40 minutes

Yield:

120
Nutrition facts:
Calories
:
384 kcal/100g
;
Fat
:
36.05 grams
;
Known since
:
Kyivan Rus, X century
;
Ingredients of the Ukrainian Recipe: Herbs Roasted Pork Loin
Mark the ingredients if you don't have some of them and press "Save to Product List" button.
If want to know more information about the ingredient and see recipes where it is used then just click on it.
Read more about this ingredient
Save to Products List
save it!
Ingredients are successfully added to Your Product List.
Save it
or
continue reading
. You can edit and save it any moment in the left sidebar or in the top menu.
Instructions:
1. Prepare all the ingredients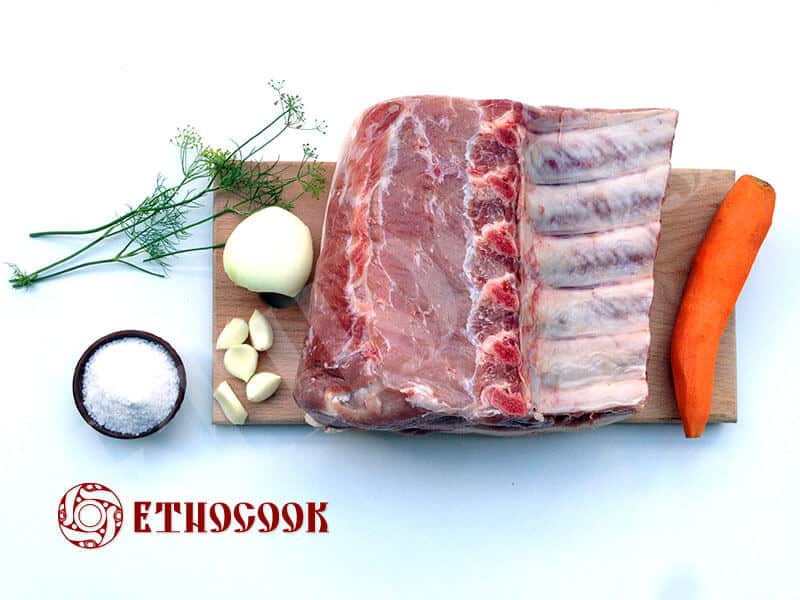 Wash the meat in cold running water, carefully pat it dry with a paper towel or cloth napkin.
2. Season the meat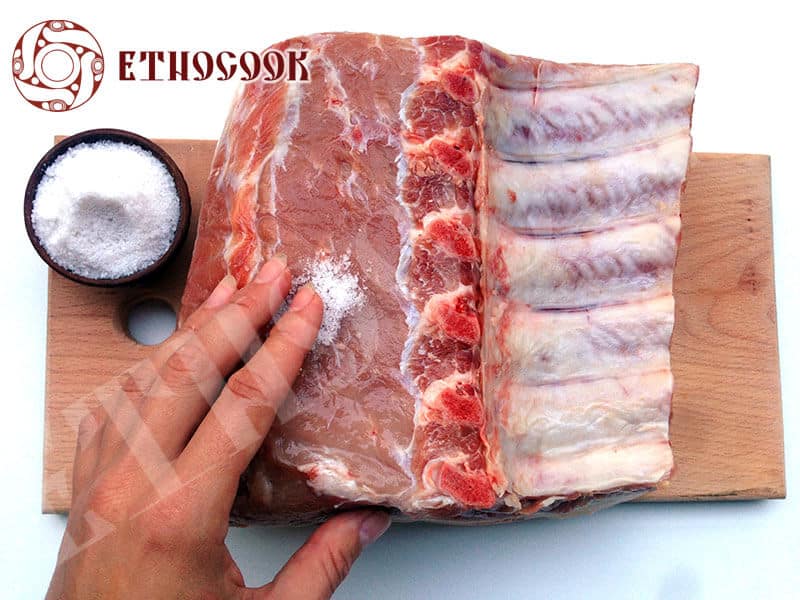 Put the meat into a deep bowl, add salt, sugar and pepper to taste. Etnocook underlines that it's not necessary but adds your cooked dish an additional taste and flavor.
3. Cut vegetables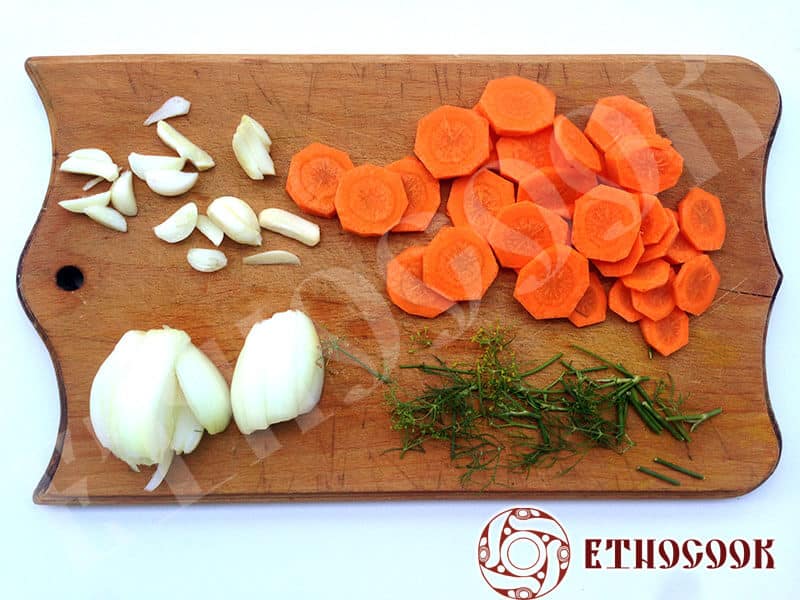 Cut the garlic and onion into small long slices, carrots into rounds, and chop the fresh dill.
4. Stuff the meat with vegetables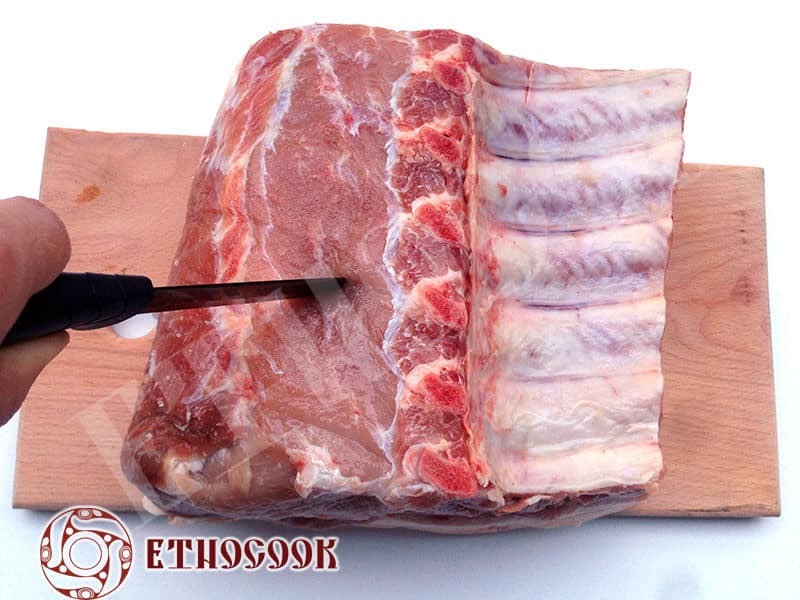 Make by a knife a lot of deep cuts (~1 cm deep) all over of meat and stuff garlic and onion pieces into them. Put the carrots on top, with dill, let stand for 1 hour. (Etnocook recommends to refrigerate overnight).
5. Roast the meat
Put the meat in the roasting sleeve (an oven bag), add the bay leaf, grape juice to taste, tie the sleeve edges and place in a preheated oven (200 C, 170 C electric in convection mode) for 1 hour. To check the readiness of the loin, carefully open the baking bag and pierce the meat with a long toothpick. If it's ready then the toothpick will be dry. In the end take the meat off the sleeve and let it simmer for ~ 5 minutes. Then turn off the heat and give it 3 min. rest.
6. Serve the delicious roasted pork loin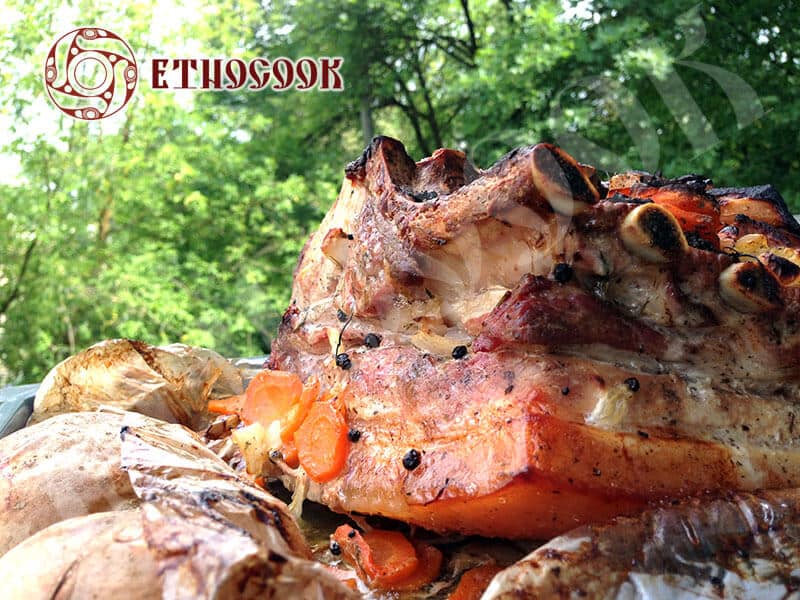 Cut the ready loin into long pieces and serve with a vegetable garnish, porridge, add sauces, salad, tsvytli. It's perfect if served cold or hot as well.